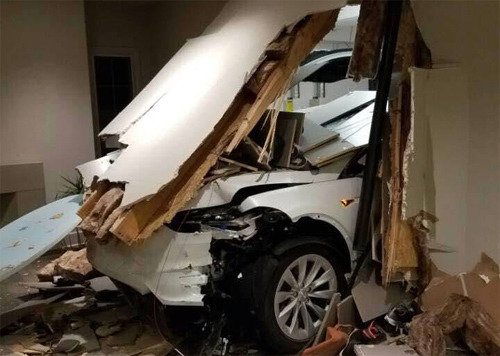 The 47-year-old 90s popular singer and actor Son Ji-chang (photo) raised suspicions of a sudden unexpected acceleration (SUA) of Tesla Model X. Son is residing in the U.S.
On Sunday morning, Son updated two photos and the details of the accident on his Facebook, saying that the accident occurred at 8 p.m. on Sept. 10, 2016.
Son was driving his second son home on his Tesla Model X 75D on the day, and argued that the car suddenly roared and rushed forward when he was about to enter his garage. "The car made a strange and loud noise, and drove through the garage wall and was stuck inside the living room," Son said.
Son was infuriated with how the Tesla PR team responded to the accident, and is currently suing against them. "Instead of investigating the defects, they blamed me that it was my mistake," he argued. "They even dispatched an investigator a week later who took away the files from my black box and refused to share the results."
On articles which implied that Son "demanded compensation by leveraging his former celebrity title" after the accident became public, he expressed his frustration saying that "I was condemned as such a shameless person who threatened Tesla at the risk of my loving son."
Son drove the old Tesla SUV model, which costs around 830,000 dollars (or around 115 million won).
Eun-Taek Lee nabi@donga.com