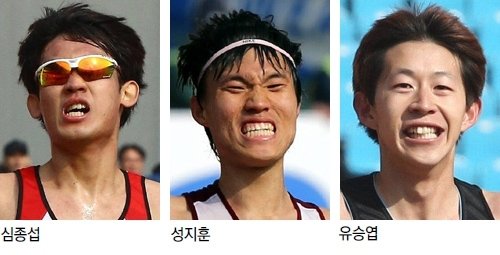 Who will instill vitality to the Korean marathon community?
No. 1 in men's Korean runner category at the Seoul International Marathon and Dong-A Marathon has been changed every year for the past three years. Seong Ji-hoon (25) won the title with a time of 2:12:53 in 2013, Shim Jong-seop (25) ranked No. 1 with a time of 2:14:19 in 2014, and Yoo Seung-yeop (24) became the champion with a time of 2:13:10 in 2015.
The three flagship runners, who clinched the title once each, will take on challenge for the second time in this year's event. Notably, since this year's marathon will serve as a competition to select members of the Korean team for the 2016 Summer Olympic Games in Rio de Janeiro, the runners are expected to stage a fiercer race. As a result, experts predict that the winner could set a new record within 2 hours and 10 minutes. The current Korean record is 2:07:20, which was set by Lee Bong-joo and has yet to be broken for the ninth year this year.
Among them, Shim Jong-seop has recently displayed robust pace. A former promising long-distance runner, he changed his sport to marathon after witnessing Ji Young-joon win the gold medal at the 2010 Asian Games in Guangzhou, China. In the 2014 Seoul International Marathon, in which he had his second career full-course run, Shim emerged as a rising star by cutting his personal record by more than six minutes. Professor Oh Chang-seok at Baekseok University and marathon expert said, "Shim Jong-seop, whose family was not well off during his childhood, still maintains 'hungry spirit' even today. We can rely on him because he is fast and armed with endurance. Seong Ji-hoon and Shim Jong-seop, Korea's promising next-generation runners, are expected to engage in fierce competition. Yoo Seung-yeop suffered injury recently and is not in the best physical condition, but he is an athlete who can take off anew anytime."
In women's competition, Kim Ji-eun (33), who tied for second with a time of 2:34:41 in Korean rankings last year, and Yeom Go-eun (22) are expected to display a tight race.
이승건기자 why@donga.com