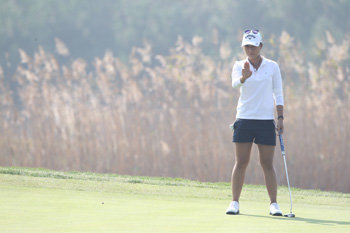 At the age of 24, American professional golfer Tiger Woods earned more than 5 million dollars in 1998 as the total prize, but world No. 1 female golfer Lydia Ko has already come close to the same amount at 19. She has earned a total of 4,889,835 dollars at LPGA Tours as of last year.
The top ranking young female golfer has the "youngest" title in many records. She recently resumed training in Orlando, Florida, to prepare for the 2016 season. "I am worried that it may be difficult to break the `youngest` records as I got a year older. But I always like to feel the thrill of living my dream," she told an interview with the Dong-A Ilbo. The year 2015 was her best year ever, as she won the LPGA Rolex Player of the Year Award at the youngest age in golf history while topping the prize ranking. But when asked what score she will give herself, she answered only 90 out of 100. She said it is because she was disqualified once and was in slump in a number of games during the season. It seems she will never give herself a 100 given she is an extreme self-driver.
Ko spends most of her time these days at her swing coach David Leadbetter's academy. She starts her day with stretch exercise at 9 a.m. and practices shots and shot games for about 3 hours. In the afternoon, she continues her training and does muscle and cardio exercise at a gym under a special coach in the evening. After coming home, she finishes her school assignments (she studies psychology at Korea University) and watches Korean TV programs until bedtime.
Her new year's wish is to attend all tournaments without getting injury and show good performance at the Olympic Games. She didn't forget to make a wish for her grandmother who is sick. As she had experience bad pains in her wrist and fingers during the last season, she is more determined to a better pacing throughout the next season. She also expressed her grand dream to win a gold medal at the Rio Olympics this year, against other Korean golfers including Park Inbee.
The teenage golfer added that she wants to put more focus on her studies and go on trips with her friends between seasons. She is interested in eating delicious foods of different countries while on her tour, and her favorite dish is taco.
In February, Lydia Ko will attend at the LPGA Coates Golf Championship, her first game of the new season.