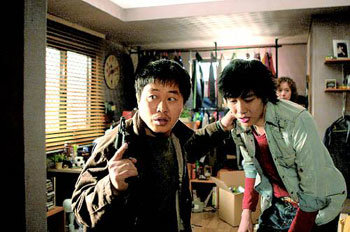 Gong Pil-du (Lee Moon-sik), detective in charge of violent crimes who has no talent in the job is a headache to his colleagues. The forty-year-old detective is bachelor and has no interests in marriage despite his father's (Byeon Hee-bong) browbeating.
One day, his father falls down. Gong Pil-du goes to Tae-gon (Kim Su-ro) who is gang member to borrow money for surgery. But he is deceived by Tae-gon and falsely accused of corruption. Gong follows Tae-gon's girlfriend, Min-ju (Kim Yoo-mi) to catch Tae-gon.
The movie "Gong Pil-du" to be released on May 11 is like a soup that college students make in membership training camp. Because all sorts of ingredients are put in the soup, it is hard to understand what the soup was supposed to be.
There are too many characters in the movie. The film features famous proven actors and actresses like Byun Hee-bong, Kim su-mi (acting as girlfriend of Gong's father), Kim su-ro, Kim Gab-su (acting as Gong's boss), and Kim Roe-ha (acting as a private lender). The all-star cast was to increase the fun factor in the movie and to support Lee Moon-sik, who for the fist time stars as the hero.
But episodes related to Gong are unorganized and disoriented, and actors' performances fail to integrate into the story. The more episodes are present, the more the void is felt. It is "poverty in abundance." In Gong's episode, Gong's father's episode, Tae-gon's episode, Tae-gon's girlfriend's episode, and the gang members' episode, they are all separated without centripetal force.
It would have been better to think about the theme of the film before trying to make it funny. Gong Jung-sik who made "Kidari Lover" is the director. Rated PG-13.
Seung-Jae Lee sjda@donga.com