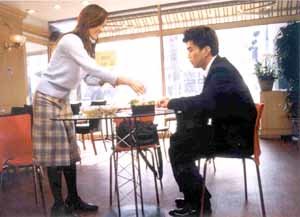 ``Tasty Courtship,`` an MBC drama about two families that operate rival Chinese food restaurants, is currently enjoying great popularity with local audiences.
The drama, aired on Wednesdays and Thursdays at 9:55 p.m., was recently shown to be drawing 28 percent of the viewing audience in its time slot. The current storyline involves a full-fledged Chinese food showdown between ``Hyodong-gak,`` a small restaurant owned by protagonist Hyo-Dong (actor Chung Jun), and deluxe eatery ``Hwanggumryong (Golden Dragon).``
``Tasty Courtship`` was originally planned as a 16-episode miniseries but the positive response from viewers, who flooded the MBC Internet site with messages praising the show, could mean that it becomes a permanent addition to the network`s lineup.
One reason for the show`s popularity, according to critics, is that rather than focusing on the love stories of its twentysomething characters, ``Tasty Courtship`` traces their paths to becoming first-class chefs. While most dramas tend to examine the lives of children of business tycoons, elite graduates of prestigious universities or venture businessmen, ``Tasty Courtship`` takes ordinary high school graduates as its main characters.
Another secret of show`s popularity is its inclusion of cooking scenes where the principals make mouth-watering Chinese dishes like ``jajangmyon,`` ``rajogi (fried seasoned chicken),`` ``lemon tangsuyuk,`` and ``bichi dumpling soup.``
In fact, producing these scenes are the biggest challenge for the makers of ``Tasty Courtship,`` who spend twice as long on them as they do on other scenes on the show and have to seek the advice of renowned local chefs to get everything just right. They even have to employ genuine chefs to do the onscreen cooking, although in the final product only the hands of these Chinese cuisine artists appear.
Kang Soo-Jin sjkang@donga.com