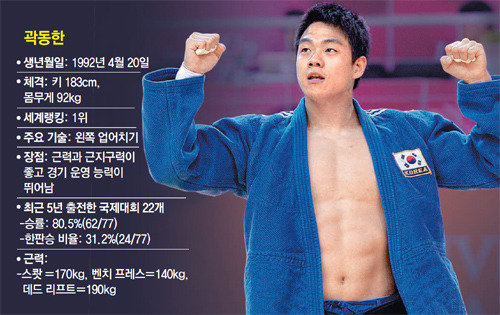 Judoka Song Dae-nam acquired the gold medal at the 2012 London Olympics. The 37-year-old national team coach made the achievement by elevating his class further to the 90 kilogram class after raising it from the 73 kilogram class to 81 kilogram. At the London event, Song prepared for actual competitions by using a 20-year-old colleague as his training partner. Four years later, his training partner has become a member of the national team and is competing in Rio de Janeiro. He is Gwak Dong-han (24), world No. 1 in the 90-kilogram category.
Gwak Dong-han, who is dubbed "handsome man on the mat," spent the best year of his career in 2015. Starting with the European Open Warsaw Championship in March last year, Gwak won the title at the Asian Championship in May, the Gwangju Universiade Games in July, and the Astana World Championship in August. He was named the "2015 judoka of the year" by the Korea Judo Association.
Gwak also took a path similar to his coach Song. After playing in the 66 and 73 kilogram class during his secondary school years, he increased his weight class further. "Since Gwak started judo from a light weight class, he is very skilled in precision techniques," said Kim Geon-woo, the coach of his professional team High1. "When he first played in the 90 kilogram class, he was lacking both weight and power, but he has transformed into a world-class athlete by gaining weight and increased muscular strength as well as inheriting techniques from Coach Song. The tendency of Gwak to maintain composure, no matter the circumstances, has developed into one of his strengths."
Gwak Dong-han, who was picked as the only winner candidate among Korean judokas by the Associated Press, is lucky in matching schedules as well. Until the semifinals, he will not face off Mashu Baker (22), the rising star in Japan who is ranking second in the global rankings. Nor will he encounter Krisztian Toth (22) of Hungary, who is known for extraordinary physical power. The Korean medal hopeful has had three matches with Baker and has one win and two losses.
"If he gets over Varlam Liparteliani (27) of Georgia, whom Gwak has a high chance to face off in the semifinals, there will be a good chance to win the gold medal," coach Kim said. "Since he specific exercises tailored to compete with Baker, he will not feel heavy burden."
"I have been concentrating on training after renewing my commitment to take the winner's podium four years ago," Gwak said. "Back then, I saw my senior colleagues (Kim Jae-beom in the 73 kilogram class, and Song Dae-nam in the 90 kilogram class) win the gold. If I maintain my pace, I will be able to achieve good results."
이승건기자 why@donga.com