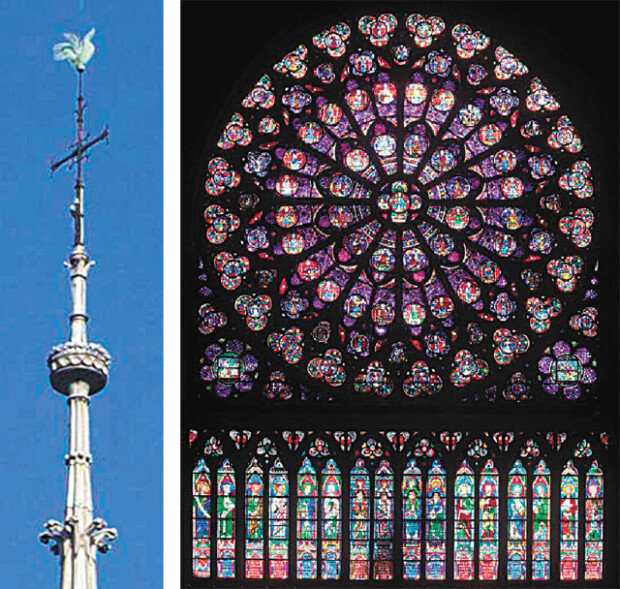 The devastating fire that broke out on Monday evening (local time) at the Notre Dame cathedral in Paris has destroyed the Gothic cathedral's two important iconic symbols. The cathedral's vaulted roof that looks like a giant blue cross from above and the 90-meter wooden spire soaring between menacing gargoyles disappeared in flames in about an hour.
The Notre Dame cathedral, which means Our Lady (the Virgin Mary), was built between the years 1163 and 1345 but went through several renovations later, reflecting a variety of architectural styles. It was the early 18th century when the cathedral was extended in size to start looking like what it is today. It is viewed as the first architecture to use the exposed flying buttresses that support the arch structure.
In 1431 when the country was in Hundred Years' War with England, England's King Henry VI was crowned King of France in the cathedral, and in 1456, the cathedral hosted the retrial of Joan of Arc, who was burnt at the stake for heresy in 1431. She was rehabilitated after the posthumous retrial and depicted in a statue that stands inside the cathedral.
The cathedral was severely destroyed after the 1789 French Revolution, but regained its presence after Napoleon chose the damaged cathedral as the site of his coronation in 1804 and Victor Hugo wrote "Notre Dame de Paris" to save the cathedral.
The cathedral went through an extensive restoration between 1845 and 1864 with the lead of French architect Eugène Viollet-le-Duc. A rooster-shaped weather vane restored during that period contained relics of Saints and a fragment of the Crown of Thorns. Jean Verdier, then archbishop of Paris, wanted to make a spiritual weather vane to protect the faithful. Unfortunately, the fire burnt off the weather vane as well.
Taek Kyoon Sohn sohn@donga.com