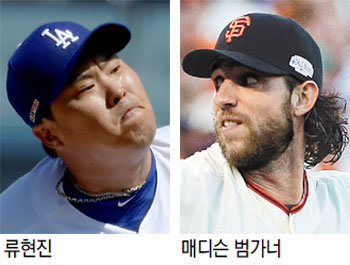 Los Angeles Dodgers' Ryu Hyun-jin, who won his first career Opening Day start last week against the Arizona Diamondbacks' ace right-hander Zack Greinke, is now set to compete against Madison Bumgarner, the San Francisco Giants' ace left-hander.
The South Korean left-hander will start the game against his team's rival in the National League West at 11:10 a.m. Wednesday at Dodger Stadium.
Bumgarner, 30, is hardly a surprising opponent for Ryu. Starting from his Major League Baseball debut on Apr. 3, 2013, to his last game last season on Sept. 29, 2018, the 32-year-old pitcher competed against Bumgarner seven times. Both pitchers were apparently strong against the opposing team's batters. Except for the two games on Sept. 13, 2014 (allowing five hits and four runs in one inning), and on Sept. 24, 2017 (allowing three hits and a run in 2 and 2/3 innings), when he had to leave the mound early due to shoulder injuries, Ryu made a quality start. Bumgarner also pitched in six or more innings except the game on Apr. 18, 2017. On July 31, 2017, both held the opponents to five hits and a walk in seven innings, logging seven strikeouts.
The two pitchers were also picked as the teams' Opening Day starters this season. While Ryu became the winning pitcher of the game against the Diamondbacks last Friday by allowing a run in six innings, the Giants suffered a defeat despite Bumgarner's successful pitching with two earned runs in seven innings.
Ryu, who accepted the qualifying offer from the Dodgers worth 17.9 million dollars this year, is expected to get a much bigger offer if he continues to show an impressive performance. Winning against ace pitchers like Bumgarner will obviously boost his value.
Heon-Jae Lee uni@donga.com