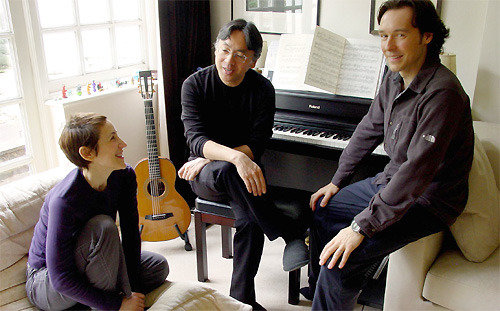 A new piece of work by Nobel Prize-winning novelist Kazuo Ishiguro has been released.
Coming out only after roughly two weeks the 53-year-old British writer was announced as the recipient of the 2017 Nobel Prize for Literature, his new piece, to the surprise of many, is lyrics for a song. He wrote the lyrics for "Bullet Train," the song of a world-famous jazz singer Stacey Kent for her new album titled "I Know I Dream," which was released on last Friday.
This is not the first time Ishiguro worked on lyrics, and he has in fact written the lyrics for – and only for – his old friend Kent for more than 10 years. "Bullet Train" is the 10th piece on which the two worked together. To ask how it would feel to have a Nobel laureate as an exclusive songwriter, the Dong-A Ilbo interviewed Stacey Kent who is currently living in London on the phone.
"Even if Ishi (Ishiguro's nickname) humbles himself when asked to play the guitar, do not ever believe him," Kent said. "Once having aspired to become a musician, he is just an exceptional guitarist and a songwriter who perfectly understands music."
The lyrics Ishiguro wrote for "Bullet Train" give the impression of being a surreal short story. Verses portray a person on a Shinkansen bullet train from Tokyo to Nagoya going through mysterious experiences mixed in the past, present and future.
"Take a listen to the song, and you will realize that the time set throughout the song is vague and unclear. A train was used as a metaphor for time that comes and goes fast," Kent said. "Ishi wove a surprisingly sentimental drama into the whole lyrics, passing between here and there, a reality and a dream. Putting together cinematic details with restrained words and metaphors, he sends a message that we all should understand that love and youth cannot stay with us for good but fade at last, and yet, we should keep going forward."
The 52-year-old jazz vocalist also has a B.A. in literature, and even studied writing novels. Similarly, her husband Jim Tomlinson, who writes a melody for Ishiguro's lyrics, studied philosophy while in college. Kent and Ishiguro first met as each other's fans.
"When Ishi was being interviewed on BBC Radio and asked to choose records he would take to a desert island, one of the records he picked was mine. So, I wrote him a thank-you letter saying how big of a fan I was, and that's how we started corresponding by email and met over lunch," she said. "Ishi and I both understand the sense of displacement, and while we talk about melancholy, we decided to leave a small window for hope open."
After the interview, I played the album. The friends' heartfelt song slowly seeped and shined through, until finally coming to life as the spirit of two souls.
imi@donga.com