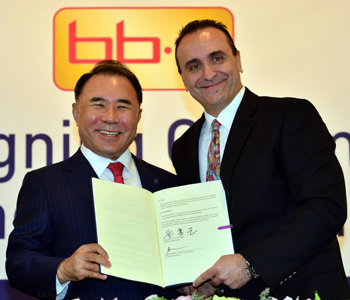 Korean chicken will hit U.S. sports stadiums, home to "fried chicken." Leading chicken franchise Genesis BBQ Group said Monday it signed a memorandum of understanding at Grand Intercontinental Hotel in southern Seoul with Levi, a unit of U.S.-based Compass Group, to set up stores and kiosks inside major sports stadiums in the U.S.
Compass Group is the largest food service firm in the U.S., with annual sales at 27.5 trillion won (25.6 billion U.S. dollars). Its affiliated Levi operates food and beverage stores in 92 major sports stadiums in the U.S. Genesis BBQ will make foray into all 92 stores from June this year, including 30 Major League Baseball stadiums such as LA Dodger stadium, 32 National Football League stadiums and 30 National Baseball Association Stadiums. Genesis will also be present at 125 college campuses` general stores and kiosks, while exclusively supplying processed meat to Levi`s restaurants.
Genesis is the first Korean firm entering a country, home to chickens and franchises and particularly the U.S. sports and entertainment restaurants market. U.S. baseball, basketball and football stadiums garner world`s leading athletes with more than 4 million spectators gathering on average a day. "Annual sales from the stores and kiosks at the 92 stadiums are expected to hit 2.4 trillion won (2.2 billion dollars)," Genesis BBQ Chairman Yoon Hong-geun said. "This is equivalent to revenues from 3,000 road shops." Genesis pays Levi 20-30 percent of profit as fees.
Genesis will retain Korean concept while selling chicken tender and wings, most preferred by Americans, at these stadiums. It will construct plants later in the U.S. to build a stable logistics network. "We will operate Central Kitchen in 2017," Yoon said. "We will set up 50,000 stores and kiosks worldwide by 2020, to become a franchise surpassing McDonalds."
mo@donga.com