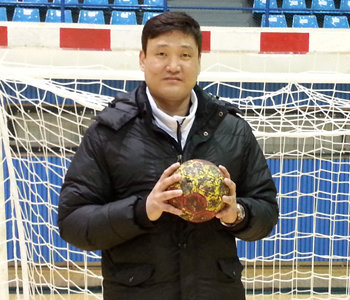 "Am I the tallest coach? Oh, that`s right! Kim Se-jin is less tall then I am."
Yoon Kyung-shin, coach of national men`s handball team, was excited as he said that he`s the best coach in terms of height. Yoon is 203 centimeters (6.66 feet) tall, taller than coach Kim Se-jin of OK Savings Bank volley ball team.
"Haha. I will be on the top of the list unless Seo Jang-hoon or Kim Joo-sung in basketball become coaches."
Yoon is a legendary figure in handball. He played in the Olympic Games for five times. At the Asian Games, Yoon won five gold medals in 1990, 1994, 1998, 2002 and 2010. He was also top scorer at two World Championship competitions and the 2004 Athens Olympics. When he was at Bundesliga in Germany, he was an eight-time top scorer for 11 years.
Korea`s national men`s handball team won silver medal at the 2014 Incheon Asian Games, and Yoon will lead the team up to the Jakarta Asian Games in 2018.
"We need to implant self-confidence to our players. While it can be a reckless challenge, I have a strong feeling that we can make it."
Yoon is poised to become a game changer. He`s determined to select potential promising players and raise performance of the national team`s main players. When he announced national team members Friday, he included high school student players Park Jae-yong and Kim Yeon-bin. "Younger players didn`t have chance until now because performance at the Asian and Olympic Games was not meeting expectations. I think though that handball should also churn out players like football dug up Lee Jung-hyup," the coach said.
Yoon promised to communicate with players from their viewpoints. "I will keep low profile so that the players can always come to me," he added.
Yoon`s first test stage will be in November at the last preliminary match of Asian region for 2016 Rio de Janeiro Olympics. Only one team will qualify for the Olympics. Korea`s team has to win Qatar that beat it in Incheon. Qatar naturalized most of its players and ranked second place at the World Men`s Handball Championships last month. "Our players are discouraged after playing with the Qatar team. I will have to set an example myself," Yoon said.
A left-hander, Yoon is using more of his right hand these days as he is using the right hand to write tactics on the board. He`s committed to live a second handball life with his right arm. "I have a strong right arm," he said.