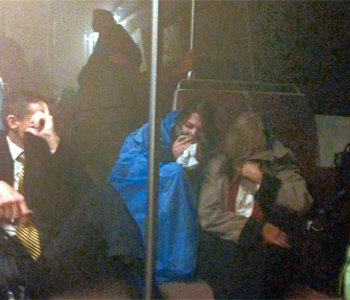 Amid lingering concern over possible additional terror attacks across the world including the Vatican after the terrorist attacks in Paris, France, a fire of unknown cause broke out at a subway near the White House, causing anxiety among the Americans. Also, a hacker who identified himself as a member of the radical Islamic militia ISIS, uploaded an Internet post, claiming that he hacked materials from the Pentagon's computer network, while the U.S. Central Command had its Twitter account hacked. The U.S. Department of Homeland Security has beefed up surveillance widely at federal government buildings and airport facilities among others.
Dark smoke without known cause spread to the station and tunnel at the L'Enfant Plaza subway station, about 2 kilometers from the White House on Monday afternoon (U.S. Eastern time), killing one woman and injuring 83 others, who were riding a subway train. The Washington Post reported that when the subway train was about to depart for the Pentagon (Defense Department building) Station, smoke came into subway cars, locking up hundreds of passengers within subway cars for 40 minutes, which caused a number of those passengers to suffocate and lose consciousness before collapsing to the floor. Andrew Ames, spokesman for the FBI`s Washington field office, said, ""At this point it doesn't appear to be anything other than a fire."
Meanwhile, a hacker and self-claimed ISIS member hacked Twitter and YouTube accounts of the U.S. Central Command, which is commanding operation to defeat ISIS in Syria and Iraq. The hacker disclosed on the Internet materials that appear to be U.S. military's information on reconnaissance into North Korea and warfare scenarios, claiming that he had hacked them from the Pentagon's computer network.