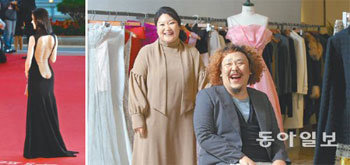 Beautiful dresses worn by actresses were the "brilliant supporting actors" during the 2013 Busan International Film Festival, which ends Saturday. The hottest issue at the film festival was the see-through dress that revealed Kang Han-na`s back and a part of her buttocks. The dress was designed by Mag&Logan, a fashion brand run by Jo Kang-min (Logan) and his wife, Kang Na-young (Mag).
In an interview with the Dong-A Ilbo, the couple designers said, "The minute we met her, we thought she had an artistic backside, which is rare among Asian women. To maximize her feminine beauty, we recommended her the black dress with a moderate design on the front but a shocking on the back."
The two are both graduates from the Ecole de la Chambre Syndicale de la Couture Parisienne, a renowned French fashion school.
In 2008, the couple launched the Mag&Logan brand naming after their English names. In less than 15 days after the launch, 23 celebrities selected their dresses for year-end TV award events. Famous foreign brands are bent on attracting celebrities to capitalize on the promotional effects of red carpet dresses. Why do they choose Mag&Logan?
The couple designers said, "It seems that we are highly assessed because we can make dresses designed for Korean women`s body types, design dresses that will show off actresses and reflect the situation of the times and philosophy."