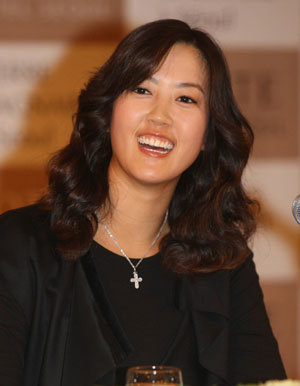 Golf prodigy Michelle Wie has grown more mature over the past couple of years due to tough times on the green.
Wie came to Korea for the first time in two years to attend her grandfather's funeral last week. She described her stories of pain and hopes for the future in a news conference at Lotte Hotel Seoul yesterday.
"I don't want to go back to the past. I want to be good at both golf and academics. Of course, golf comes first," she said.
She will join the LPGA Tour next season while studying at Stanford University.
"Since I am not on the varsity golf team, I get no special treatment. I will attend two out of three semesters a year in the offseason. It will take me six years to graduate," she said with a laugh.
Graduating from high school last year, she now lives with eight roommates at a dorm. At first, she said she burned a pot because she did not how to boil water and put the pot in a microwave.
Now, Wie said, she can do laundry and cook Korean dishes like bokkeumbap (fried rice) and kimchi jjigae (spicy stew).
Blaming her recent spate of poor performances on a wrist injury, she said, "The more I practiced, the more painful it got, and it was tougher for me because of mounting criticism. Now, I've grown careful about everything."
She said she would hit for distance of up to 392 yards while training, but now wants to focus on accuracy and consistency.
As a card-carrying member of the LPGA, she said, "When I was invited, other golfers didn't see me favorably. Now I'll participate in many tournaments and win many championships."
Wie said she met fellow Korean golfers such as Shin Ji-yai, Amy Yang and Lee Jee-hae in the LPGA orientation, saying, "There are too many excellent golfers, but I still want to be Player of the Year."
Pledging more participation in Korean golf tournaments, she will hold a charity event for underprivileged children at Lotte Hotel Seoul Dec. 24, and then leave for the United States to prepare for next season.
kjs0123@donga.com