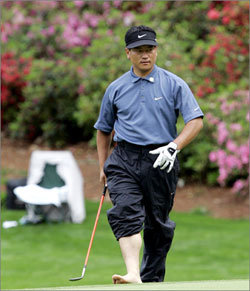 The 69th Masters is suffering from what has been plaguing the PGA Tours throughout this season—bad weather. After delaying the starting time of the first team five times, the tournament finally started at 2:30 a.m. (Korean time) on April 8; five hours and 30 minutes later than as scheduled. Only 24 out of the 93 players were able to complete the first round before sunset, and the rest of the round was postponed until the following day. Out of the 15 games held this season, nine were irregularly run due to rain.
The "Big Four": Currently Two Strong, Two Weak—
Last year's winner Phil Mickelson (USA) and the world's top-ranked Vijay Singh (Fiji) are tied for fourth (11th hole, 2-under-par), while Tiger Woods (USA), going for his fourth career title in this tour, is tied for 36th (12th hole, 2-over-par) and Ernie Els (South America), who is in his 12th attempt to wear his first "green jacket," is tied for 47th (11th hole, 3-over-par).
All four have more than six holes left in the first round, which put them in similar conditions, but although Mickelson and Singh may be at ease now, Wood and Els are in danger of being cut-off.
"Tank" Choi Kyung-ju (Nike Golf), ranked third last year, was tied for 11th (12th hole, even-par) and Chris DiMarco, famous for his "psycho grip," is the "unexpected leader," currently 4-under-par at the 14th hole.
A "Glass Bead Green," Fast Even When Wet—
On this day, there was a rainfall of 2mm, but the "glass bead green" of Augusta National GC, fast and hard enough to be compared to a car bonnet, stay put due to the SubAir System installed under the green of the 18th hole. A ventilation and heating device removes moisture, and a delicate vibration device makes sure raindrops do not damage the green.
Tiger Woods is the biggest victim of this SubAir System. After succeeding in a two-on at the 13th hole (par five, 510 yards), Woods hit an eagle putt hard, expecting the green to be slow due to the rain, but the putt missed the green and went into the water. Acquiring one penalty point for this, Woods ended up getting a bogey at an eagle chance.
"Lifetime Pass for Champions" Under Fire Once More—
When 1970 Masters champion Billy Casper (73, USA) hit 34-over-par with 106 hits, a score equivalent to that of a "weekend golfer," the issue of giving a lifetime entry pass to all winners once again became subject to controversy.
At the 16th hole (par three, 170 yards), he dropped the ball into the water five times and succeeded in getting the ball on the green on his 11th try, and finally ending the hole after three more putts. He broke the record of most strokes on the 16th hole (11), and most strokes on the 18th hole (95), but avoided disgrace as he was disqualified when he failed to turn in his scorecard.
Due to popular opinion that "incompetent former champions over 60 should not play," the Masters Organizing Committee sent letters to three players over 70 asking them to refrain from playing, but Casper insisted on participating this year.
Young-Sik Ahn ysahn@donga.com