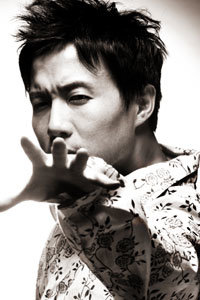 "It's hard to talk about my music without talking about dance. But both my music and my dancing have to be more refined now that I'm older. Otherwise, people will say that I'm immature."
Returning to the music scene eight long years after his last album, singer Park Nam-jung is still a devout supporter of dance—as one might expect from the man who invented the "L-dance" craze in the late 1980s, through his signature move of sweeping his hand back and forth between the side of his face and the underside of his chin.
Park rose to idol stardom in the late 80s with his hits "Oh Wind" and "The Crash-Landing of Love," along with a series of elaborate dance moves. He was edged out of his place at the top by the wave-making Taiji Boys in 1992, and his subsequent attempts at a comeback had not met with much success. Regarding his sixth album, which was released in 1996, Park wryly remarks, "My enthusiasm got the better of me."
"There was a time when I used to beat myself up. Looking back on it, though, I feel like I was just being childish. The market is a cold and unforgiving place, yet there I was, swaggering like a bigheaded fool. Now I finally see my music, and the market, clearly."
Album #6, Park's latest offering, is filled with medium-tempo dance songs. The title track, "Don't Go," sets a familiar melody to an 80s disco beat. Other tracks, including "Obsession," "Heartbreak," and "Destiny," are also similar dance numbers. Park explains, "I chose songs that grown-ups could easily sing along with and dance to, without cluttering their heads with troubling thoughts."
The two ballad tracks, "Even If Time Should Pass" and "Let's Go Far Away," demonstrate the new maturity of his vocals. The album also features updated remakes of his previous hits, "Missing You" and "Days Brushing By on the Rain," but old fans might find them somewhat unfamiliar.
For a while, Park even performed on the night club circuit. He had left the entertainment industry, but he couldn't abandon singing and dancing. There are even a couple of comeback albums that never quite saw the light of day.
"What allowed me to survive it all was my family. My wife and my daughter gave me a new view on the world, and now I want to make music that's not just for myself but for sharing with everyone out there."
Yeub Heo heo@donga.com