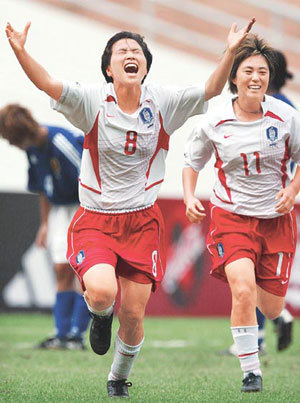 Hwang In-sun made it for the Korean team.
From the beginning, the Japanese women`s national soccer team waged an all-out attack on the Korean team. At 17`, however, dashing in, Hwang kicked into the net Song Joo-hee`s center which bounced off a Japanese player.
Hwang helped the Korean team beat its Japanese opponent for the first time in 14 matches, and advance to the World Cup. The Korean women`s soccer team has never made it to the World Cup before.
The victory came out in the third-place playoff held on Saturday in Bangkok, Thailand. Prior to the game, most experts predicted that Japan would beat Korea. Contrary to expectations, Korea beat Japan, and secured a ticket to the World Cup scheduled for this September.
The goal also conveys a personal meaning to Hwang. It was a gift to her mother, who has supported Hwang by working as a cleaner.
Choked by emotion she said, "I`d like to give you happy news from my mom," said Hwang. "I will make her happier in the World Cup."
Actually, Hwang is not a striker. She defenses the midfield. From time to time, she makes valuable goals for the team. For example, she made the second goal against North Korea, tying the match 2-2. Teamed up with Lee Myong-hwa, the most senior player among Korean soccer players, she coordinates harmony among players.
Hwang received all the MVPs in 1998 and 2001.
The Korean men`s team made it up to the World Cup semifinal last year. South Koreans hope that the women`s team will make the same miracle this year in USA this year. Players are full of energy and confidence. She said, "We will make it in America this September. We need your support."
The national team will arrive at 8:40 a.m. today at Incheon International Airport.
In the meanwhile, North Korea beat China 2-1 in the final and defended its championship. The team will also play in the World Cup.
Jong-Koo Yang yjongk@donga.com