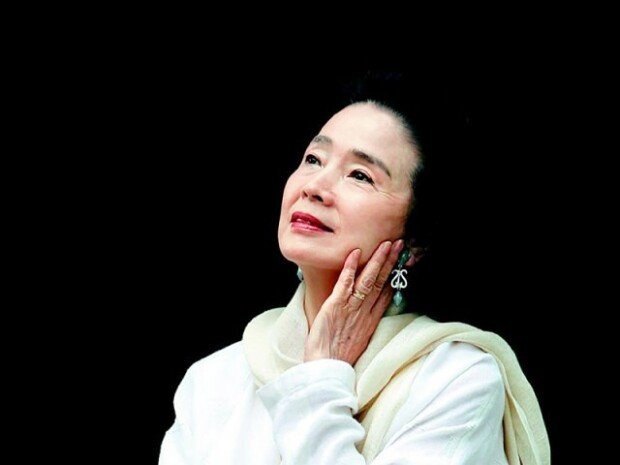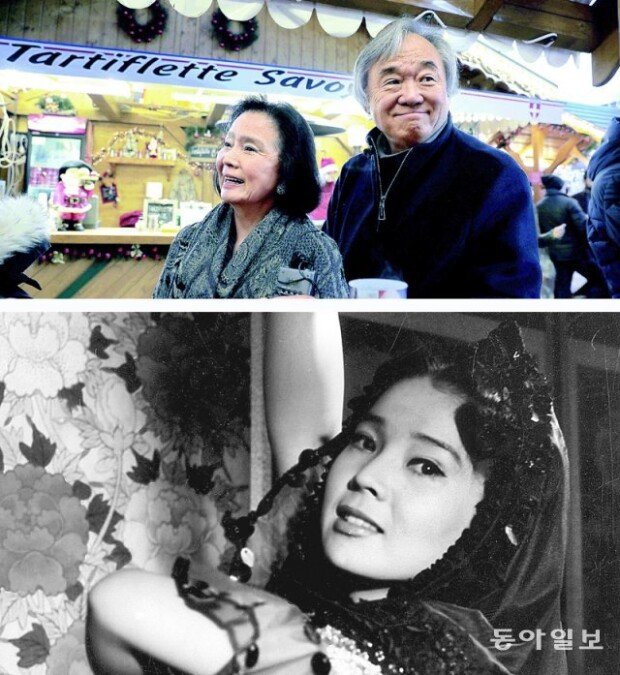 Korean actress Yoon Jeong-hee, one of the most popular stars in Korean cinema between the 1960s and 1980s, passed away in Paris on Thursday local time. She was 78.
Her husband and also well-known pianist Paik Kun-woo (age 77) sent a text message on Friday to acquaintances from the Korean movie industry saying that a long beloved film star and his wife passed away at five p.m. Thursday peacefully and comfortably listening to their daughter, Jin-hee, playing the violin. The funeral will be held in Paris with only her close family members attending as the deceased wishes. Sources from the filmdom said that the ceremony would be held for three days at a catholic church in Paris that the actress often visited during her time in the city. She will be buried in a cemetery near Paris.
She was the first generation of the "troika" of popular actresses in Korea between the 1960s and 1980s, along with Moon Hee and Nam Jeong-im. Born in Busan in 1944, Yoon made her big screen debut in 1967 through the movie "Sorrowful Youth" after beating out some 1,200 other candidates. She was attending Chosun University as an English literature major at the time. The Korean heartthrob was one of the most prolific movie stars of her time, appearing in some 330 films.
Yoon was also one of the most acclaimed actresses, receiving more than 20 awards for best performance between the 1960s and 1970s in numerous major film festivals, including Korea's Daejong Awards. She was named the best actress in Lee Chang-dong's "Poetry" (2010) in seven local and international film awards, such as the Los Angeles Film Critics Association Awards and Australia's Asia Pacific Screen Awards. The movie "Poetry" was her comeback in 16 years since the movie "Manmubang" and also her last work as an actress. The "Poetry" depicts a woman called Mi-ja (the actress's actual first name) who lives with her teenage grandson and falls in love with poetry while struggling with Alzheimer's. In an interview with the Dong-A Ilbo, Yoon said being an actor is to portray people's lives and that she will continue her work on the big screen until her last moments. She reportedly started suffering from the early symptoms of Alzheimer's in 2010 when the movie was released. Her diagnosis was confirmed in 2017.
Movie star Yoon married world-class pianist Paik Kun-woo, also dubbed the "truth-seeker on the piano keys," in March 1976 after dating for two years since their first meeting in Paris. Their wedding ceremony was held at the residence of famous Korean painter Lee Ung-no (1904~1989), located in the 20th arrondissement of Paris. The couple was known to be profoundly devoted to each other. In her 2019 interview with the Dong-A Ilbo, Yoon, showing her deep feelings for her husband, said hopefully, he would outlive her.
Her symptoms had significantly worsened since 2018, according to Paik. In 2020, a court dispute arose over her legal guardianship when her siblings accused Paik and their daughter of neglecting the actress. However, with her death, the case is likely to be dismissed without any court ruling.
Ji-Sun Choi aurinko@donga.com