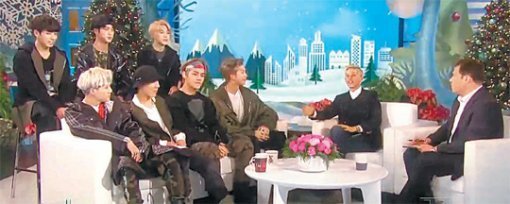 Korean boy band BTS made a debut on The Ellen DeGeneres Show on Monday (local time). BTS performed on the show and talked with the host at the show, which has been recording the highest viewer ratings during the day time in the United States since 2003.
The seven-member boy band appeared on the show for 10 minutes, showing off a remixed version of their new song "MIC Drop" for the first five minutes.
An interview session followed for the next 4.5 minutes. Their leader RM, who is fluent in English, answered most of the questions. When he was asked if he taught himself English, he said, "My English teacher was a sitcom, Friends. Back in the day when I was like, 15, 14, it was quite a syndrome for all the Korean parents to make their kids watch the Friends. First I watched with the Korean subtitles, then next time I watched with the English subtitles, then I just removed it."
Ellen said, "You write the songs and they're very personal lyrics you talk about things like mental health and that's important to you right to set yourself aside not just do pop music." To this, Suga said, "We have different languages but i think we can all share in the same message. I think that's why our songs appeal to people who don't speak Korean."
"When they got to LAX, it was like the Beatles were here," Ellen said, while asking about the meaning of the name ARMY, the fan club of BTS. When she asked if any of them ever dated their fans, RM said, "That's what we are doing right now." The fans cheered to his answer.
BTS ranked first in the U.S. iTunes Top Songs chart on Friday (Korean time) with their Steve Aoki remix of "MIC Drop," which is the first time for a K-pop group.
imi@donga.com