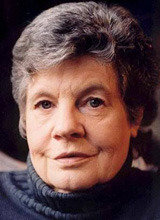 The Toji Cultural Foundation has awarded the 2017 Park Kyong-ni Prize to British author Antonia Susan Byatt. The literature award, which marks the seventh anniversary this year, is organized and hosted by the Toji Foundation, Park Kyong-ni Prize Committee, Gangwon Province, Wonju City and the Dong-A Ilbo.
"The reason for selection is because A.S. Byatt has written dozens of novels, biographies and essays that encompass era and individuals in an aesthetically well-presented manner, with a vivid depiction of characters and keen eye for life," the award committee said Wednesday. "While exploring the factors having a profound influence on human life such as history, customs and nature, she tries to put human beings in a new and deep perspective by emphasizing the individuality of individuals."
The Park Kyong-ni Prize, the first Korean international literary award to open doors to foreign authors, was established in 2011 to honor Park Kyong-ni, one of the great literary figures of Korea (1926-2008), who had opened up a new chapter in Korean literary history with her epic novel Toji (The Land).
This year's award ceremony will be held at 4 p.m. on Oct. 28 at the Toji Cultural Center located in Wonju City during the Park Kyong-ni Cultural Festival.
Hyo-Lim Son aryssong@donga.com