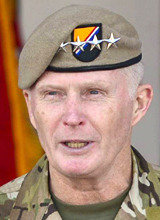 Raymond Thomas, commander of U.S. Special Operations Command (SOCOM), said recently that he objected to the argument that there is no military option against North Korean leader Kim Jong Un as he continues to build a nuclear weapons and the means to deliver them.
According to the U.S. Pacific Command on Thursday, Thomas made the remark in an interview with Fox News while attending the Aspen Security Forum held recently in Colorado in an apparent reaffirmation of Washington's position of not excluding the military option against the North if Pyongyang crosses the "red line" in its nuclear and missile provocations. "There is always a military option," he said. "That's why you pay 600 billion dollars a year."
He also stressed the SOCOM's roles in military operations against violent extremist groups such as the Islamic State and Al-Qaeda in Iraq and Syria, indicating that the SOCOM will play leading roles if the U.S. takes military measures against North Korea, which has been posing threats to the mainland U.S. with nuclear weapons and missiles. Thomas told the House Armed Services Committee in May that the SOCOM was ready to strike key North Korean facilities such as nuclear and missile bases and chemical weapons storages.
The signs of an imminent provocation by North Korea and a series of senior U.S. government officials' military responses against the North, there are escalating concerns over a possible crisis on the Korean Peninsula in August, creating an atmosphere similar to the war rumors in April. A diplomatic source in Washington said that while the United States did not take any military measures in April, it is highly likely that the U.S. will have concrete military responses if Pyongyang enhances the technological level of its intercontinental ballistic missile targeting the U.S. mainland.
In addition, the disappointment over China's role in resolving the North Korean nuclear issue could further strengthen U.S. President Donald Trump's military action against the North. It is translated as being in the same vein as the July 22 remarks Joseph Dunford, chairman of the Joint Chiefs of Staff, that military options against North Korea was "unimaginable." Some observers speculate that the South Korea-U.S. joint military exercise Ulchi Freedom Guardian could become an opportunity for making the military options concrete.
sunshade@donga.comysh1005@donga.com