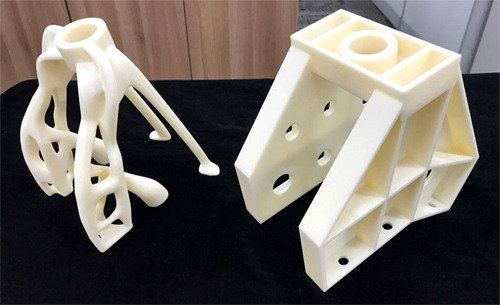 3D printers are penetrating into industries. Previously used for hobbies and to manufacture prototype goods, these printers are now playing a decisive role in boosting productivity.
According to the Science, ICT and Future Planning Ministry, the global 3D printing industry will increase to 15.8 billion dollars by 2019 from 5.1 billion dollars in 2015, a 31 percent rise in annual average. During the same period, the industry will likely grow from 223 billion won (204 million dollars) to 508.2 billion won (457 million dollars), an annual average growth of 22.9 percent, slightly lower than the world average.
The growth gap stems from the difference in where 3D printing is mainly used. Advanced countries are using this technology to make tools needed to manufacturing rather than final goods.
There is more room for traditional manufacturers to use 3D printing than start-ups or tech companies. This explains why global manufacturers are introducing 3D printing. General Electric, which produces air carrier engines, has acquired Sweden's Arcam AB and Germany's Concept Laser, both metal-based 3D printing manufacturers, at a total value of 1.54 trillion won (1.38 billion dollars), in order to strengthen competitive edge in the aerospace field. Early this month, U.S. car marker Ford partnered with U.S.-based Stratasys, world No. 1 3D printing company, and is currently testing auto parts production. Experts expect 3D printing market to grow further in the industrial sector rather than for hobbies.
Ministry data shows that Korea is using 3D printing mainly for education and prototype goods manufacturing. 3D manufactures are mostly small in size, and technology levels are just 66 percent of that in the U.S. "Demand for utilization is lacking in the manufacturing sector while there is a high dependence on foreign 3D printers," a ministry official said.
While 3D printing is mostly used in machinery, aerospace and automobiles, the medical and biotech sectors, where Korea has strength in, are likely to grow the most in the short term. "In foreign countries including Germany, bio 3D printers are manufactured by machinery experts and therefore focus on slim and precise features and expensive," said Rocker CEO Yoo Seok-hwan, who was previously CEO of Celltrion Healthcare, an affiliate of Celltrion. "The most important thing about bio 3D printers is to make them by ensuring that cells are alive. Preciseness itself can't ensure cells to remain alive. We focused on making sure that cells are alive, which enabled us drive down prices significantly."
The 3D printer industry is trying to find ways to use new materials like carbon fiber or metal to overcome demerits of the fact that plastics are the main substance of 3D printers.
Korean companies have also started to pay attention to this issue. SK Chemical attended the Inside 3D Printing Conference and Expo held March 16 in New York, where it presented on "skyflit," that resolved the problems of existing 3D printing substance, thereby trying to make inroads into the American market. On March 15, Hyundai-Wia said it competed first stage development of a product that combines 3D printing function on a machinery that peels metals for processing. Hyundai-Wia plans to complete its second stage development by the end of the year and make inroads into the global market by 2020.
Sung-Gyu Kim sunggyu@donga.com