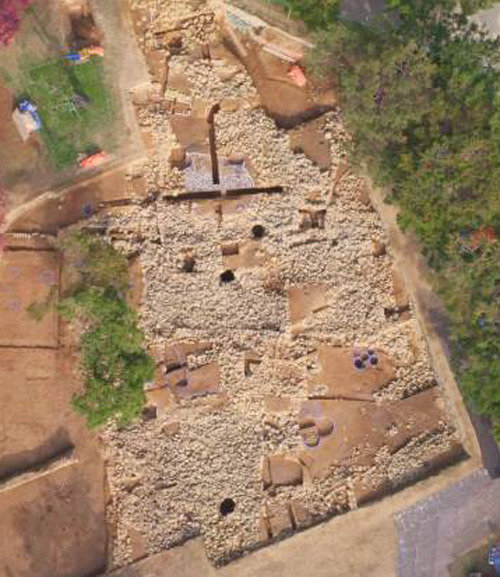 An ancient tomb of the Baekje Dynasty was found in Seokchon-dong in Seoul. The tomb reportedly consists of the largest number of smaller stone mound tombs ever found in Korea as at least 10 individual stone mound tombs are located closely or connected to each other. Together with the tomb, the excavation team also found a site possibly used as a mortuary hall where the corpse was contained before the burial.
The Seoul Baekje Museum said Tuesday that the excavation team has verified a historical site, where more than 10 stone mound tombs are located, between the existing tomb No. 1 and tomb No. 2. The excavation project stated October last year after some stone alignments and historical relics were unexpectedly discovered during an investigation on the cause of sinkhole in the district.
These newly discovered stone mound tombs are all in rectangular form. The biggest single tomb measures 13 meters per side. The total width of individual tombs collected is 40 meters. This supports the hypothesis that the adjacent tomb No. 3 could be a collection of individual stone mound tombs as the length of one side of the tomb is 50 meters. It has been also verified previously that the southern and northern tombs of the tomb No. 1 are connected. The excavation team says that these stone mound tombs originate from the northern tomb and presumably expand to eastern, western and southern directions.
The structure of tombs, which is a collection of smaller tombs, found in Seokchon-dong can also be commonly found in mud-covered tombs of the Mahan State or stone mound toms of the Goguryeo Dynasty. For the newly discovered tombs, the ground was dug up, mud was plastered and stones were stacked.
The excavation team discovered as much as 3,000 historical relics, including gold earring, decorative ornament, earthenware, iron sickle, roof tile, glass marble and animal bone, in a space for ritual ceremony next to the tomb. Some archeology experts carefully suggest that the space was used as a mortuary hall after looking into the type of roof tiles. During the Baekje era, when king or queen passed away, the corpse was contained in a mortuary hall for two years and three months before the burial. Only one mortuary hall of the Baekje Dynasty has been discovered at remains at Mt. Jeongjisan in Gongju City in the South Chungcheong Province, which was built after the capital was moved from Seoul. In this context, it remains as a plausible theory that the Baekje Dynasty had a mortuary hall when its capital was located in the Seoul region.
"Chances are high that this tomb belongs to royal families during the Hanseong Baekje era, considering the size of tombs and types of relics," said the excavation team.
Sang-Un Kim sukim@donga.com