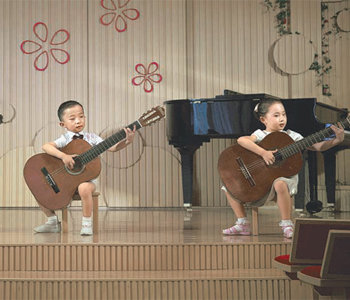 The Internet edition of the New York Times on Wednesday published 13 photographs and videos showing some latest scenes of North Korea in an interactive piece titled "Six Days in North Korea."
The photos and videos were taken by David Guttenfelder, a National Geographic photographer, while he was traveling in North Korea late last month with the WomenCrossDMZ, a group of feminist activists and peace advocates including U.S. feminist Gloria Steinem.
The photos shows the Kim Jong Suk factory in Pyongyang that manufactures the North`s national flags, a cartoon depicting a Unha-3 rocket launch at a children's hospital, a video conference booth at a maternity hospital, women's swimwear at a shop, the Kim Il Sung Square at dawn. One photo showing kindergarteners playing doctors is very similar to one released by China`s Xinhua News Agency last year. Photos showing the inside of an upper class residence with two pianos and a wide-angle view of the Kaesong Highway are new.
Guttenfelder, a Pulitzer Prize winner, is very familiar to North Korea, as the former chief of the Associated Press`s Asia bureau has made more than 40 trips to the North. "When only the exceptional is publicized, the everyday details become the most intriguing — the stories of 25 million lives, unabstracted by politics. They are the mysteries most worth revealing," he wrote.
The article is the New York Times` second one that is also available in the Korean language after an article on highlighted Korean-run nail salons` "rampant exploitation" of employees in New York.
snow@donga.com