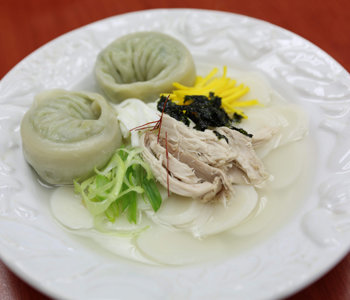 Tteokguk, traditional Korean broth with sliced pieces of rice cakes, does not remain in the past. It has become one of the representative foods that promote globalization of Korean food. In Korea, an easy-to-cook instant tteokguk has gained growing popularity among single households and unmarried people.
Since 2014, CJ Foodville has been offering Tteokguk and Tteok Manduguk, a rice cake and dumpling soup, in its overseas restaurants in China and Singapore under its Korean restaurant brand Bibigo. "In the past, people thought that Tteokguk should be eaten only on the very first day of the year but today, the broth is routinely enjoyed not just as processed food but as superb soup in high-end Korean restaurants," said Lee Geon-ho, head of the food culture research firm Jimiwon.
Recently, a growing number of people are enjoying tteokguk for the purpose of improving their physical health. To follow the trend, Korea's Rural Development Administration has introduced distinctive style of tonic tteokguk made with chicken, seaweed fulvescens and cubed snailfish in early February.
Tteokguk with chicken is usually made with a whole chicken. With reduced amount of broth, chicken tteokguk boasts chewy texture of sliced rice cakes and chicken meat. "Chicken tteokguk can serve as perfectly healthy food for people who have a weak constitution with weakened immune system or poor nutrition," said Park Beom-yeong, a manager at National Institute of Animal Science.
Tteokguk with seaweed fulvescens and cubed snailfish can be enjoyed for their uniquely refreshing taste that only seafood can offer. Rich in minerals, such as protein, calcium and iron, seaweed fulvescens, can be perfectly balanced when eaten with rice cakes that contain abundant carbohydrate. Cooking seaweed fulvescens tteokguk begins by boiling water with sea kelp to make kelp stock, and sliced pieces of rice cake, seaweed fulvescens and oyster are added when the stock starts simmering.
Cubed snailfish used to be not popular due to its too soft flesh, which is not the case anymore. An increasing number of people are buying cubed snailfish nowadays as it doesn't have unappetizing fishy smell and can be a good ingredient for making light taste broth. To cook cubed snailfish tteokguk, start by boiling water with pieces of sea kelp just as seaweed fulvescens tteokguk, and add rice cakes and four to five pieces of cubed snailfish whose internal organs and waters are removed.