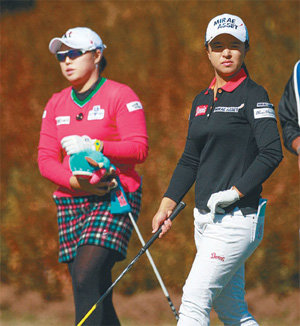 A Dong-A Ilbo reporter called Korean female golfer Jang Ha-na on Monday evening but she hung up soon, saying, "I`m taking a class. I will call you later." She wasn`t studying English to prepare for LPGA tour. After 30 minutes, she called back, saying, "I was practicing driving. I have a driver`s license test tomorrow. I will have to drive long distances once I`m in the U.S." The reporter then called another female golfer, Kim Se-young, who answered in a throaty voice, "It`s physically strenuous since I do muscle exercise with the trainer at a fitness center for four hours every day. I heard that we have to move frequently among areas. It`s important to develop physical strength."
Jang and Kim, both 22 years old and famous for being power hitters in the KLPGA, will advance into LPGA next year. They are busy preparing. Amid increased prize money in KLPGA, Korean golfers are less challenging to join LPGA where conditions are relatively exhausting and difficult. However, the two players wanted to realize their dreams and succeeded in opening the Big League door. "It`s true that I feel more comfortable and familiar in Korea but I still want to accomplish what I had dreamed of for long," Kim said.
Jang and Kim also share similar footprints. They first met in an elementary school competition and played at juniors leagues. Since joining KLPGA tour in 2011, they became star players; Jang grabbed six wins in total and Kim five. This year, Kim scored 264.71 yards in driving distance to rank No. 1, while Jang ranked third with 262.71 yards. They both ranked 110th in fairway arrival rate. After passing the LPGA Qualifying School at joint sixth, they expressed expectations, saying, "The courses in the U.S. have fewer up downs, compared to Korean courses, and less out of bounds." On the fact that she will meet Kim Hyo-joo and Baik Kyu-jeong in the U.S., both of whom are juniors by three years, Jang said, "It`s a lie that I don`t care about the eyes of others, but I don`t have a sense of rivalry. I just concentrate on enhancing my golf performance."
Jang will go on a field training to Ho Chi Minh, Vietnam, on Friday, and Kim will depart to Tempa in Florida on January 4. Fathers of the players will accompany them, and Kim and Jang are concerned that their families are getting into hot water. "We will not repeat trial and errors we had committed as rookies in Korea with only vigor and greed. We also hope to win rookie award that we`ve missed in Korea."