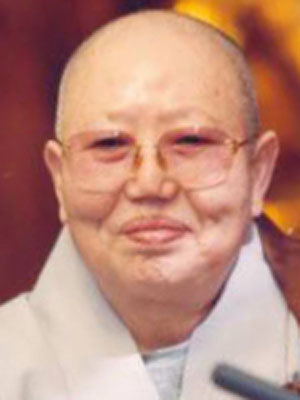 The Ven. Myogongdang Daehaeng, who greatly contributed to the modernization and popularization of Korean Buddhism, died Tuesday at Hanmaum Seonwon in Anyang, Gyeonggi Province. She was 86.
Spending 63 years as a Buddhist nun, she was born in 1927 in Seoul`s Itaewon district and entered Sangwon Temple in Gangwon Province as a monastic in 1950 under the guidance of the Ven. Hanam. She went on to perform penance for more than 10 years on mountains in Gangwon and Gyeonggi provinces. In 1961, she became a Buddhist nun and had Sangwon Temple rebuilt in 1963.
Daehaeng founded the Buddhist Center of Korea, the predecessor of Hanmaum Seonwon, and served as abbess in devoting herself to propagating Buddhism. She set up 15 branches of her temple in Korea, including on Jeju Island, Busan and Gwangju, and 10 abroad in Los Angeles, Chicago and Washington in the U.S. and Brazil and Thailand.
Her Buddhist writings were translated into four languages and her books, including "Hanmaum Yojeon" and "The Road in the Air," were also translated into foreign languages and displayed at the Frankfurt Book Fair several times.
The nun opened a new era of Buddhist propagation by distributing scriptures containing Korean explanations, turning Buddhist writings into video materials, using the Internet as means for propagation, publishing the Modern Buddhist Daily, and founding Hanmaum Research Institute.
She also held more than 80 Buddhist services at home and abroad to help children who were their families` breadwinners, develop Jung-ang Sangha University, and computerize the Tripitaka Koreana, the complete collection of Buddhist scriptures carved on more than 80,000 woodblocks.
Daehaeng received the Sarvodaya Award given by a Sri Lankan religious welfare agency in 2001 and won the Outstanding Women in Buddhism Award given by the United Nations in 2002. Her funeral and cremation rite will be held at Hanmaum Seonwon at 10 a.m. Sunday. (For more information, call 031-470-3100).
imi@donga.com