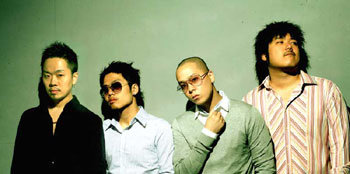 "Brown Eyes," "Brown Eyed Girls" and "Brown Eyed Soul." These are just some of the pop groups whose names incorporate "Brown Eyes." Although it often causes confusion, Brown Eyed Girls is an all-girl group, which is in no way linked to the other groups. On the other hand, Brown Eyed Soul is a group which made their debut in 2003 with Na Eol, former member of the male duo Brown Eyes, and three new members. Brown Eyed Soul emerged in the music scene as one of the most promising groups of their time with the great success of their debut album, which sold 360,000 copies and featured the hit songs "My Everything" and "Was It Really Love?" Their second album, which hit record stores last month, has already sold more than 50,000 copies.
I met them in a practice room in Yang Jae-dong, Seoul, on December 9. They were rehearsing for their upcoming year-end concerts. "People aren't easily hooked on our music after listening to it only once. Our music is like coffee. The more you grind and brew it, the stronger it tastes. It is absorbed by the soul. I hope the group will be recognized by the public slowly over time. The faster the process, the sooner it changes," said Jung Yeop, 30.
Brown Eyed Soul is derived from "Blue Eyed Soul," which describes black music - R&B or soul music - performed by white artists. The group replaced "Blue Eyed" with "Brown Eyed," a term that symbolizes Asians. Although they made a successful debut and wrote all the songs for the second album, their situation did not allow them to record any new songs. In fact, they were forced into the shadows for four years due to conflicts with their management agency. This was one of the reasons behind its members producing most of the tracks featured on the second album.
A total of 20 tracks are listed on the new album. They say that they had so much to say that they tried to add as many songs as possible.
The voices of its four male members mesh perfectly with rich harmonies and sweet melodies, which are evident in the title track "My Story," as well as "Is it Wind" and "Promise You." Unlike the first album, where the stylish vocals of Na Eol dictated the general mood, the second album not only features the other members' own songs, but also more of their voices. However, the new album might be disappointing to those music fans expecting to hear traditional soul music similar to that of the first album.
"Basically, we pursue soul – a genre of African-American roots. But we are not confined by certain genres. Instead, we are deeply attached to the lexical meaning of soul. Soul is the privilege that is unique to humans. We'd like to create music that can have a positive impact on people's souls," said Na Eol, 29.
"I hope people listen to our music with their hearts. This is not an album made from calculating this and that. You should listen to it with the heart, not the head," said Sung Hoon, 27.
Brown Eyed Soul is scheduled to perform at BEXCO in Busan on December 18, Exco in Daegu on December 22 and at the Olympics Gymnastics Stadium in Seoul on December 25. Na Eol will join the military on December 27 after the concert tour.
"There will not be spectacular side events and it could end up being as dreary as the 'Art Stage on Wednesday.' But, perhaps, the youngest member (Sung Hoon) may liven up the atmosphere by showcasing 'Tell Me' dance moves," said Young Joon.
salthj@donga.com