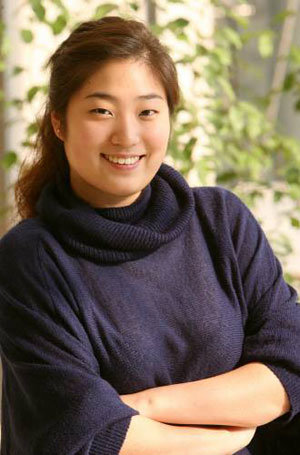 "When I hold concerts in Germany, I love to play 'Little Bird' from 'Lina's Garden' by Yun I-sang as my curtain call piece. It has a short and cute melody, and what's more, Yun is very popular in Germany!"
Violinist Kim Su-yeon (20•photo), a Korean living in Germany, has an authentic and fresh smile. She was born in Germany and grew up there, but is very apt at Korean expressions. She will perform with the Orchestra Philharmonique de Monte-Carlo at the Opera House of the Seongnam Art Center at 8:00 p.m. on October 19. She is scheduled to perform Mozart's Violin Concerto #4 with the master conductor Eliahu Inbal.
Kim was born in 1987 in Münster, Germany. Since February 1994, when she became the youngest violinist to win the Youth Music Concours, she has been breaking records one after another. She passed the entrance exam of the Academy of Music at Detmold at the age of nine and began to win prizes. She won the federal competition "Jugend Musiziert" in 2001, the International Violin Competition Leopold Mozart in Ausburg in 2004, and received first prize at the International Violin Contest in Hannover in 2006.
Her success is made even more touching given the fact that she achieved it through the public education system while overcoming a difficult environment. Her indigent father who was a foreign student suffered a cerebral hemorrhage while writing his doctorate thesis in theology when she was still in her early teens, making living more difficult for her family. Kim's neighbors in Münster, who valued her talent, held a signature-seeking campaign to prolong her family's stay in Germany. The Korean community also lent a hand. Kim never stopped practicing with the violin she borrowed.
"In Germany, anyone can borrow musical instruments and receive lessons from professors at universities without cost. I played in an orchestra with friends who learned music as a hobby from when they were five or six until they were teenagers, and it helped a lot. It was a teenagers' orchestra, but we had concerts in Malaysia, France, United Kingdom, and Latin America."
Nowadays, Kim plays on a Camillus Camilli violin manufactured in 1750 in Italy that she borrowed from the Deutscher Musikinstrumentenfonds of the Deutsche Stiftung Musikleben. An association was also formed in South Korea that includes President Kim Eon-ho of the music publisher Hangilsa to support her, and she received the first Heyri Art Award in 2005.
"Korean was not difficult for me because I like reading books and I read all my father's books. Father is still not well, but he's really happy when I perform. I am grateful to all those who have helped me."
The ticket prices for her upcoming performance in Korea range from 20,000 to 100,000 won. For further information, call 031-783-8000.
raphy@donga.com