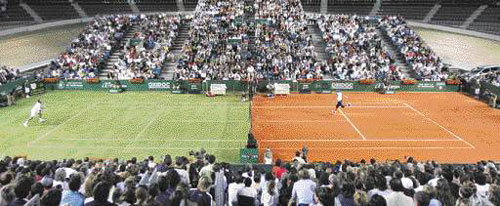 You can call it the strangest tennis court in the world. It has green grass on one side of the net and 1.5 tons of red clay on the other. It took 19 days and 1.63 million dollars (some 1.53 billion won) to prepare.
A special court on a Mediterranean island-
The special court was built in Palma de Mallorca, Balearic Islands, a province of Spain in the western Mediterranean Sea. The Swiss "emperor of tennis" and world's top-ranked player Roger Federer competed with Spanish "left-handed genius" Rafael Nadal, ranked second, on May 3 in a so-called "Battle of Surfaces."
Federer, champion of the last four Wimbledon titles, has a winning streak of 48 games on grass courts. Nadal, winner of the two most recent French Open tournaments, has been undefeated on clay courts for the last 72 games. In the history between the two players, Nadal enjoys a lead three wins and three defeats. In particular, he has won all five games that took place on clay courts. Federer has been stronger on grass courts where his forte, serve-and-volley play, becomes most powerful. On the other hand, Nadal has good ground strokes, and plays well on clay courts on which rallies are relatively slow. This exhibition match was designed to incorporate the features of both players in a single venue.
In the match, which was attended by some 7,000, Nadal defeated Federer 2-1 (7-5, 4-6, 7-6 ) in a full-set tiebreak that lasted for two-and-a-half hours.
Changing shoes during the game-
As in regular games, the two players had to switch court sides when the game score turned to odd numbers, and they changed shoes accordingly. After taking a set each, and tying each other 6-6 in the third set, the two contenders headed for a tiebreak. Although it initially seemed that Federer might easily win when he took a 4-1 lead, Nadal came from behind and won thanks to the three points he took while playing on the clay court side.
After the game, the two rivals poured champagne on each other. "The game was real fun. Although it was embarrassing when the ball bounced off the grass awkwardly, we want to do it again next year," they said, smiling.
kjs0123@donga.com