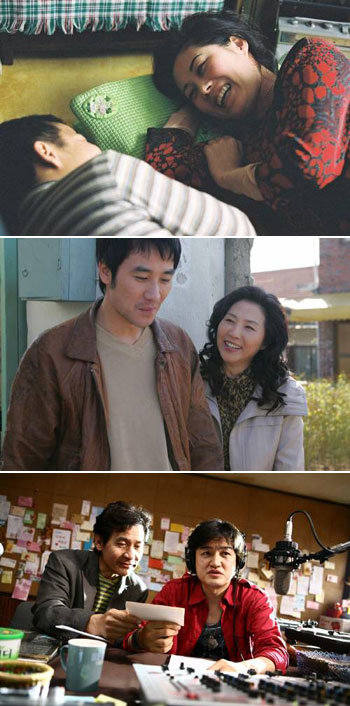 It happened once again. People tear apart my heart countless times all throughout the year and I also unconsciously hurt others. And they are mostly someone very close to me.
It is now time to heal these wounds and to prepare for a new year. So, how about wrapping up the year while watching movies that would heal the scars on your hearts?
"Bravo, My Life," is a coming-of-age film set in 1979. In the movie, first-year middle school student Gwang-ho (Lee Jae-eung) lives with his sister and mother (Moon So-ri) who sells cosmetics by visiting houses door to door. The movie is about Gwang-ho, who is in the adolescent period and talks rudely to his mother such as, "How come you are so ignorant," and "Get out of here." And it is also about things happening around the family. The scenery is heartwarming and makes us reminiscent of our past.
At the end of the movie, Gwang-ho, who is lying down alone in a room, sheds tears thinking of his deceased mother. All the characters emerge in his dream and dance together. The movie ends with a scene that indicates that Gwang-ho has become a grown up. The movie gives you a chance to quietly reflect on your past and mother. It may bring tears to your eyes as well.
"Radio Star" released in cinemas in September makes us think about our relationship with close friends. It is about beautiful friendship between Choi Gon (Park Jung-hoon) who was once a famous singer and his manager (Ahn Sung-gi). Choi, who used to be insolent and say things like "Hey, cigarette," "Hey, light" to his manager, burst into tears after the manager leaves. While airing a radio show, he realizes that the manager is the one who has always stood by him and had made him become a star.
"Family Ties" is a much-acclaimed movie which has not made a good box-office success. Although the movie does not emphasize the importance of family, it binds people who are most distant to become a family together under the title, "family." Sun-kyung (Gong Hyo-jin) who hated her mother, looks at a photo of her dead mother and sheds tears mourning over her mothers death. All the objects in the room rise up and surround crying Sun-kyung. At the last part, the screen is filled with fireworks like having a festival and the characters who do not share a single drop of blood becomes one great family.
These are healing movies of the year selected by the Korean Institute of Film Application (KIFA). KIFA is a cinema therapy institute which heals mental troubles with movies. None of the three movies have provocative scene. Scenes are calm all the way through the movies. These movies are not certainly big-block busters but they make our hearts warm. They not only soothe our wounds but also make us love others and bring meaning into our lives.
There are not many hours left. Let's watch these movies released in DVD and tell people around us that "We have been sorry," and "I love you," before the year ends. You may burst into tears. Your wounds will disappear and the New Year will come to you.
yourcat@donga.com