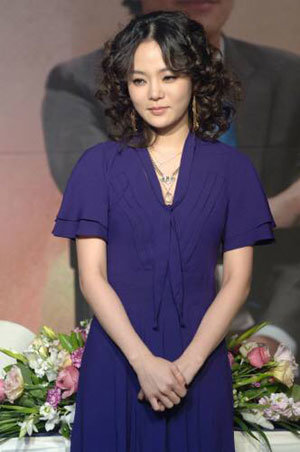 I interviewed Chae Rim (picture), who is returning to TV after her divorce from singer Lee Seung-hwan in March, at the new drama press conference held at 63 City on December 19.
"How will I write my white paper on love? Well, it will be like you have different love with different partners."
Thus Chae Rim summed up her view of love. She is going to play the heroine of "Dal-ja's Springtime," a KBS2 new drama about "a thirty three year old woman's white paper on modern love" to be aired at 9:55 p.m. on Wednesdays and Thursdays starting from January 3. Oh Dal-ja, her character in the drama, is a single woman in 30s who falls for Kang Tae-bong (Lee Min-ki), a younger man she met through a love contract.
As for her character looking for a man through a love agency with 3 million won, Chae Rim said, "There will be a debate, but it is already happening in reality." Dal-ja, a home shopping channel MD, has to choose between Eom Ki-jung (Lee Hyun-woo), a marriage candidate with wealth and status, and Tae-bong, a young and energetic man.
"I think there is no unforgivable love. Love doesn't come as you will."
This is her first time playing a woman in 30s. With her cute girl image, she has played a character younger than she is. When I said she looks changed, she answered, "I tried to look different with thick make-up to express Dal-ja's personality and character."
I asked if she is concerned that people may be tired of another drama about a woman in 30s made after the success of MBC's "My Name Is Kim Sam-soon" and "What Are You Doing, Fox?"
"Their big frames may be similar, but this is a new drama with different actors and directing. I am different from Kim Seon-a. If Sam-soon is friendly, Dal-ja is girly even in her 30s," said she.
Chae Rim also starred in dramas made in China and Taiwan beginning with "Love of the Aegean Sea (Ching Ding Ai Chin Hai)" in 2003. Although she has not been on TV in Korea since KBS2's "Oh! Victory Bong Soon-yeong" in 2004, she played the heroine of "Secret Legend of Kang Xi's Dynasty (Kang Cao Bi Shi)" this year.
"A Chinese newspaper put me on the list of most popular Chinese actresses. Local fans seem to like me as one of their own actors, not as a Hallyu star."
Chae Rim added, "I like working both in China and Korea. I want to be a friendly actor, not a foreign star, to Chinese people."
She was smiling throughout the interview but lost her smile when asked about her divorce.
"I know people want to know what happened, but I'm not ready to talk about it yet. I'm doing fine. I just hope people watch my new drama with a good will."
surreal@donga.com