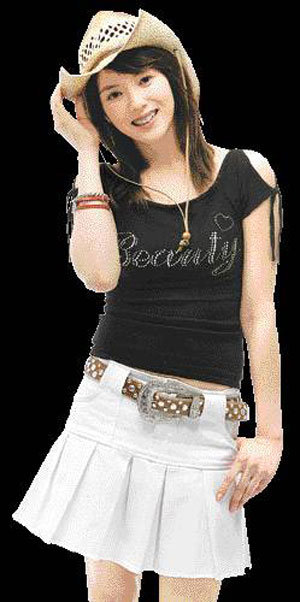 She is tough. She is energetic enough to love martial arts. Her provocative charm is more than evident in dance scenes from her latest movie, "Dasepo Girl." Her remarks on a TV show have invited a barrage of criticism. The name Kim Ok-bin is enough to draw the attention of virtually everyone.
She is very busy this summer being cast in a couple of differing roles. She stars in an MBC drama, "Over the Rainbow," as a would-be singer wish boyish charm. In the new movie, "Dasepo Girl," she plays a very cute, interesting high school student. I interviewed Kim, who always wears a big smile, on August 3 at NB, a club in Seocho-dong, Seoul.
She Loves Martial Arts –
In "Over the Rainbow," her role as Jeong Hee-soo is someone full of energy. Hee-soo is ashamed of neither her occasional wrong pronunciations nor her local accent. In real life, she is a third dan (or rank) in Hapgido and second dan in Taekwondo. She learned Muay Thai and boxing for fun.
"It must be my straightforward manner (fans like about me). They say the way I talk and behave is not what they expect. They say they are shocked, but in a pleasant way. Sometimes my local accent even cheers them up."
In the drama, she flashes great "Nike kicks" (the dancer jumps on only one hand, and then one leg kicks forward very close to the face in the air), a difficult move to master even for male dancers. If TV viewers have anticipated moves typical of women dancers, they might be surprised by the Nike kicks.
Kim Ok-bin is surely an attractive actress, if not in the same as Jeon Ji-hyun or Lee Hyo-ri whose appeals are shapely legs (Jeon) and alluring smiles (Lee). Kim's eyes are filled with longing, and she radiates her youthful power, largely derived from her interest in martial arts.
Han Hee, the producer of "Over the Rainbow," complimented her, "Ok-bin practiced the Nike kick so hard that she spent many sleepless nights for a month. 'Powerful' is the most accurate word to describe Ok-bin. She is a bold actress. She's very enthusiastic about her role with an almost perfectionist attitude."
She's Slim–
"Some say I'm muscular. How do I look? Am I not slim?"
Kim Ok-bin is famous not only for her theatrical talent but also for her "natural" beauty. Internet users found and posted on the web her photos from her younger years, which happened to prove that her good looks are not a product of plastic surgeries.
However fabulous others think she looks, she has a complex about her appearance: her figure is fuller on screen, though she has an oval face and slender body.
"I haven't thought about plastic surgeries because I inherited my looks from my parents. I should be grateful that I got only the good features from my parents. My mom has a crooked nose, but I've got my father's nose."
She Becomes a Point of Contention–
Recently, her remarks on a TV show caused quite a reaction with some calling her, "Doinjangnyeo." Kim said, "I don't like men who use discount cards at fancy restaurants." "Doinjangnyeo," a newly coined word in Korea, is a rough equivalent of "kangaroo generation," and refers to women who do not work or have money and are dependent on rich boy friends or parents.
"My friends sent me text messages, telling me about the criticism and short comments about it. So I read them. I wasn't talking about dates in general, but an imaginary date with a Mr. Perfect. It was a misunderstanding."
The incident negatively affected her popularity. Unlike many who would be upset, she was surprisingly calm about the whole matter.
"I myself am a frequent user of discount cards. But honestly, I am not sure what women in their twenties feel when discount cards pop out of the wallets of their Mr. Rights."
Some around her advise her to apologize or explain about her remarks. On this urgings, she says, "Of course, I have things I want to say. But I keep to myself because I want to concentrate only on acting right now."
Her debut was an online beauty contest hosted by the famous portal Naver in 2004. She starred in "Whispering Corridors 4," "Hello, God," and "Bride from Hanoi." She says her born personality seems to adapt to her roles whenever she plays different figures.
"I'm worried that I might end up with a 'personality disorder' after a number of dramas."
surreal@donga.com