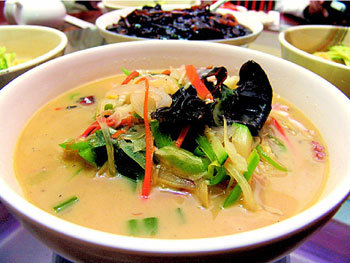 Jjambbong originated in 1899, created by a Chinese person, Jinhaeyijun, from Nagasaki, Japan. While running a restaurant, he felt sorry for fellow Chinese self-supporting students who longed for Chinese food, so he would take discarded chicken or pork bones from nearby Chinese restaurants, add some green vegetables, and gave it to them with noodles. This was the predecessor of "jjambbong."
Now his great-grandson operates a Chinese restaurant, "Shikairo," in the very same spot. Because this place is known as the birthplace of "Nagasaki jjambbong," many tourists come by and there is even a jjambbong museum on the second floor.
The origins of the name jjambbong are uncertain. At the time, they said that Chinese workers from Fujian who worked on the wharf in Nagasaki harbor greeted each other in the morning with "Shiabbong" (Have you eaten?), which is assumed that the Japanese changed to jjambbong. "Shiabbong" is seen as a patois of "chifan," which means, "to eat."
On Okinawa, Japan's southernmost island, there is a traditional food called "chanpureu" which natives call "jjambbong." It means that in the three countries of Korea, China, and Japan, their foods have melted together. It is believed that "chanpureu" is also derived from "chifan."
The roots of Korean jjambbong are in the Chinatown covering all of Seollin-dong and Bukseong-dong in front of Incheon's Jung-gu office. Overseas Chinese Sohn Deok-jun (50), who operates two restaurants here, Taehwawon and Jageumseong, says, "In Shandong there is a dish called chaomachan where you fry vegetables and add soup with noodles," adding, "During the Japanese occupation era, Chinese residents in Incheon loaded firepots on bicycle carts and enjoyed eating ready-made food, including jajangmyeon and chaomachan."
This chaomachan was influenced by the Japanese and changed to jjambbong, but because it didn't suit Korean taste, people say that woodong emerged. Woodong is considered to be Korean-style chaomachan, where vegetables which have not been fried are boiled.
It's interesting to hear about the origin of jjambbong, but it's even better to eat it.
"Jjambbong in the old days was not spicy. It wasn't red either. They used whatever was readily available at the time, so it was different from what it is today. The same applies to jajangmyeon. During the spring food-shortages in the old days, jajangmyeon only contained dried slices of radish. Do you want to taste it the way it used to be?"
Thus he brought out jajangmyeon and jjambbong he had made himself. The jjambbong was "white jjambbong." It was rich because it had been made from chicken soup. There was no comparison to the jjambbong made with chemical seasonings.
The jajangmyeon was also different in taste, color, and chewiness. It wasn't sweet and it was light, and the vegetables weren't chopped, they were cut in thin strips, so it was totally different.
"The light taste is because of Shandong-style soy bean paste. Even today, my mom prepares the soy bean paste by herself. Jajangmyeon originated from Shandong, but is very different from our jajangmyeon. Because Korean jajangmyeon originated in Incheon, it is called Hyangto jajangmyeon. Our jajangmyeon and jjambbong both come from Incheon's Chinatown."
Incheon's Chinatown-
In Incheon's Chinatown, one can experience Chinese culture in Korea.
At the entrance to the main road, if you pass Paeru (the Chinese traditional gatehouse which marks the beginning of the shopping street), the color of the street starts to change. It is all red. You can hear a lot of Chinese, along with music and songs. You can see old Chinese-style houses from the early 1900s, and there is also a Samgukji mural side street (135m) where you can see a mural made from 77 copies of the novel Samgukji.
On the wall of "Gonghwachun" (now is abandoned), made famous for the origin of jajangmyeon, you can also see the words of a faded sign. Chinese fashions, foods, and tea are sold at stores in the Chinatown.
The first and third streets of Chinatown are the restaurant streets. Like Taehwawon's Sohn Deok-jun, there are many places operated by Shandong Chinese living in Korea from generation to generation. "Bokraechun," specializing in "Gonggalbbang," a type of "Kungshinbing," is a true native, which has watched over Chinatown for three generations and 80 years. It has been at the current location alone for 48 years.
Right after the opening of the port in 1883, Chinatown was one of the few foreign settlements in Jemulpo Port that recognized extraterritorial rights. During the Military Riot of 1882 (Imo), the predecessors of the Chinese residents in Incheon followed the Ching army. From 1884, the number of Chinese immigrants who crossed over from Shandong began to increase.
Travel information-
Getting there:
Location: Front of Incheon Station (National Rail Line One).
Driving: Gyeongin Highway, make a right turn at the end of the 2nd Gyeongin Highway, go in the direction of Wolmido and stop in front of Incheon Station or the Jung-gu Office.
Parking: 1 Paeru, 2 Paeru (Korean-Chinese Cultural Center, roadside)
Information: △Incheon Cooperative Tourist Information Center- in front of Incheon Station (032-777-1330) 9a.m. -6p.m. △Incheon Station 032-772-0784 △Bukseong-dong office (Chinatown) 032-760-7960 △Korean-Chinese Cultural Center (next to 2 Paeru) 032-760-7860 △Jung-gu office(www.icjg.go.kr): 032-763-5171△Incheon Cultural Tourism Commentary Office (inchonculture.com); Group Visits: 010-7276-7277;
Chinese restaurants: Taehwawon, Jageumseong: 032-761-1688; Daechangbanjeom: 032-772-0937; Bokraechun 032-772-3522.
Seung-Ha Cho summer@donga.com