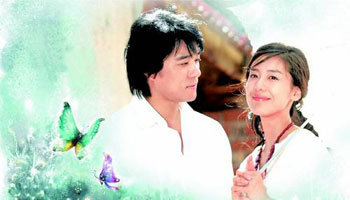 Wang-mo and Ja-gyeong finally got married.
The weekend TV drama "Dear Heaven" (writer: Lim Seong-han; producer: Lee Yeong-hee) features a dramatic storyline that includes a daughter, deserted by her mother as a child, and the mother's stepson getting married.
In the show's March 18 episode, Yeong-sun's (Han Hye-sook) daughter Ja-gyeong (Yoon Jung-hee) and her stepson Wang-mo (Lee Tae-gon) will marry. The secret that the mother-in-law and the daughter-in-law are actually mother and daughter will soon be disclosed, and the show's audience has had a keen interest in how the drama will unfold afterwards.
According to TNS Media Korea, the show's ratings for March 12 were 34.6 percent, the highest since the start of the drama.
Key reasons for the show's success are Lim's characteristic well-woven story, sophisticated descriptions, and unique episodes. Viewers say that the true love of hero Gu Wang-mo and heroine Lee Ja-gyeong eases the sometimes too-provocative story and enables them to become engrossed in each episode.
The two main actors, Lee Tae-gon (29), who made his debut in this drama, and actress Yoon Jung-hee (27), successfully act like a real couple, so much so that the term "Wang-Ja couple" has become a catch phrase.
I met the couple who will marry soon in the drama. They looked like real siblings.
In the show, Wang-mo is a romanticist who devotes himself to his girlfriend. Ja-gyeong is tender but strong enough to change her life. What are their real characters like?
"Jung-hee and Ja-gyeong are similar in many ways. They are both introspective and shy. The two also look feminine on the outside, but are strong inside. I sometimes confuse Ja-gyeong or Jung-hee. But when Wang-mo tries to make Ja-gyeong laugh and you suddenly laugh out loud, I see then that you are not Ja-gyeong. (laugh) Ja-gyeong does not laugh like that because of her inner pain," Lee says.
"You say that you are a tough man. I think you are not. (laugh) You have same character as Wang-mo. You listen to me when I have problems and care about me. When you act as Wang-mo, who confesses his love to Ja-gyeong, I sometimes feel it is not acting. (laugh) But soon I realize you are Tae-gon when you make jokes and ad-lib," Yoon says.
The two main performers say that their leading characters are similar to themselves, which makes it easy for them to act. Lee Tae-gon was commercial model who appeared in Bacchus non-alcohol drink commercials and GM Daewoo commercials. Yoon Jung-hee is a newcomer who debuted in the KBS' "the War of Roses" of the TV show "Mountain Cabin." Lee and Yoon received SBS New Star awards in 2005.
Couple Transformation-
In the first few episodes, Lee and Yoon were criticized for their lack of performing ability. Yet as time went by, they were praised for their improved acting.
Yoon: "People said my pronunciation was not clear. I tried hard to improve my acting, but because we are in synch, the audience feels that our acting has improved, I guess. Do you remember Han Hye-sook taught us privately how to act at her home before the drama started? It's been over one year and I now react naturally to your acting, like the real Wang-mo and Ja-gyeong. I think people are seeing that in our performances, too."
Lee: "Do you remember when we were worried about the ethical issues surrounding the plot? We were shy at first and were busy acting. We read lines. Even when I have difficulty immersing myself in my acting, I feel I become Wang-mo in front of you. We are so close that some staff members say we are lovebirds (laugh)."
Some people have built an online community to make the Wang-ja couple real. But Lee has a girlfriend. Yoon does not have a boyfriend.
Wang-mo and Ja-gyeong got married in the March 7 episode. How did they feel about their first night as a married couple?
Lee: "It was the first time I married on screen and I felt I was really marrying you. I felt strange. When I said "We were just married" after the day's shooting, we were like a real married couple. It was just acting, though (laugh). When Wang-mo tries to please his wife wearing only underwear the first night after their marriage, I felt embarrassed because you laughed a lot.
Yoon: "You were enjoying yourself as you performed in the scene (laugh). I almost cried when I thought about the days I spent with Wang-mo. I also liked the beautiful ceremonial hat at first, but later I felt tired because it was really heavy."
"Dear Heaven" will be extended to 75 episodes. Wang-mo and Ja-gyeong will have a family. Yi-ri (Kang Ji-sub) and Seul-ah (Lee Soo-gyeong) will have dates. Cheong-ha (Cho yeon-woo) and Moon-ok (Lee Min-ah) will have a baby. Above all, Ja-gyeong and Wang-mo will become aware of the secret of their birth, which will be a shock to the couple.
Lee: "I will tell Ja-gyeong that Wang-mo will be next to her and she can overcome all her difficulties. I will tell you, Jung-hee, that we will have the same mind that we had at first even though we are tired because of the weeks of sleepless nights ahead of us."
Yoon: "I felt gloomy because Ja-gyeong is so unhappy. But nowadays I feel happy and laugh a lot because Ja-gyeong is happy. I wish us happiness to the end (laugh)."
zozo@donga.com