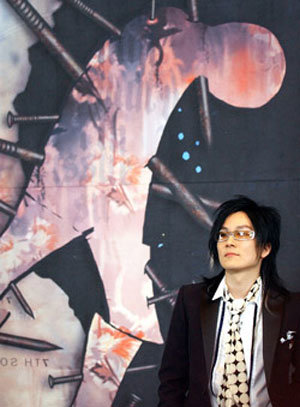 Seo Tai-ji became the symbol of public music with four "Tailji and Boys" albums. However, it seemed like he gave up the "public" for "music" in his solo albums released in 1998 and 2000. Nonetheless, he tried to put two together in his seventh album "Issue" released on January 27. Seo described his new album as a "sensitive core" in his press conference. Thus, unlike the strong and deep hardcore sound before, this time he concentrated on a public melody. Seo explained this change as his wish to always pursue new things, and he added, "It has been a very long time since I have been free from popularity or record sales."
Among 12 new pieces of music, there are only seven "songs" left after excluding short musical performances. For the song which contains the message of this album, Seo chose "Robot." The line, "Maybe the reason I still love babies' toddling is because of my lost past's complex" sings of Seo's painful longing for the memories of childhood and naivety.
The sound of rock is still strong, however, except for "F.M. Business" which criticizes the music industry. All the other songs are in the major key, giving off a bright and united tone. Most of the songs are actually composed with a variation of only four cords. However, Seo gives changes in sound in "October 4th" where Seo longs for childhood affinity with a relaxing acoustic guitar, and in "Zero" in which he confess his kneeling down in front of the world to his mother by a steadily rising orchestra.
There exists a knife of criticism as well. The main song "Live Wire" disclaims suppression with words like, "Who are you to restrain my freedom, my mike and my decision." "Victim," which was banned by MBC on January 28, sings of the injustice of female discrimination. Seo inserted the words "sexual assault" in a lively melody, making it more chilling to hear.
The public interest towards Seo's new album is still high. Record management Yedang Entertainment is optimistic about sales as the first 400,000 records were all sold out. On the other hand, Seo held a concert with American hardcore band Korn and Fear Factory on January 29 at Olympic Park in Seoul. He revealed, "Korn had a fresh impact on me since Metallica and I both like Fear Factory's strong vocals and drumming." On February 1 and 3, he plans to have a concert with domestic band Nell and Pia, both discovered by Seo, at the same place at 5 p.m. 1544-1555
kathycho@donga.com