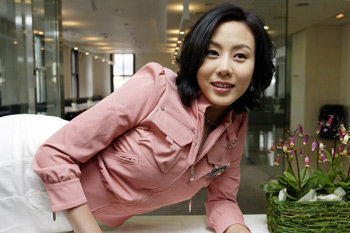 ˝Jang Hibin is a story that grows interesting as it approaches the end. We intend to draw more viewers by casting a young actress with lively images.˝ 22-year-old Park Ye-jin will take on the challenge for KBS2 series Janghi Bin (9:55 every Wednesday and Thursday).
Jang Hibin (Kim Hye-su), one of King Sukjong`s concubines in Chosun Dynasty, finally becomes a queen after giving birth to the king`s baby and Queen Inhyeon was thrown out of the palace. Then Park will play `Sukbin Choi`, a new rival to Jang Hibin.
This is the forth time the story of the notorious concubine was adapted for a TV series. KBS series fell short of expectations so far, recording an average viewer rating of 7 to 8%. Heroin of the series Kim was also at the center of controversy over her breach of contract with a film production company.
While its rival `All In`, an SBS series, enjoyed phenomenal popularity at 49.1% rating, it was even said that KBS planned to end the drama earlier than scheduled. Now that `All In` ended, however, the broadcasting company is all set to catch up its earlier losses.
˝We will air Jang`s dramatic reverse of fortune this week,˝ said Yun Heung-shik, director of drama division at KBS. ˝Then Park will be a relief pitcher for Jang Hibin.˝
The production team thought it was a good chance to lure viewers with the absence of All In, so they moved fast forward to Jang`s ascension. Jang conceived the baby in 40th episode and gave birth in the 42nd. In the 45th episode aired on April 9, she will win a Hibin status and Queen Inhyeon will be kicked out of the palace before the 50th.
Park made her first appearance at the shooting in Gyeonghi Palace on April 8. She first does an errand for Queen Inhyeon as a maid. She delivers clothes for the new-born baby but a needle is found in the clothes and she is severely punished.
˝It was a scene in which I got bitten badly. I wore this protection gear inside but it still hurt. I did my best since I will have to play an important role as one of three women loved by the king.˝
She is a maid in the early part, but after the king sees her praying for the expelled queen she soon becomes a concubine. Jang Hibin tries to set her up, but she persists through and becomes mother of King Youngjo.
˝Choi will help the king understand what kind of woman Jang Hibin is, then the king will finally decides to execute her,˝ said Park. ˝I want to describe a woman who is honest and strong inside while appearing fragile and soft-hearted outside.˝ Park plans to deliver comfortable tone to viewers instead of trying to speak in old accent.
Seung-Hoon Cheon raphy@donga.com