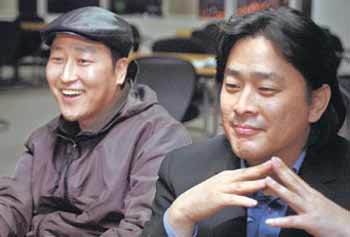 "What guts!" (Director, Mr. L)
"Brave!" (Lee Ju-Young. Female. 27)
These are the responses expressed at the preview of director Park Chan-Uk's new production `Revenge Is Mine`. He earned great fame with `Joint Security Area JSA` (2000) that attracted 2.5 million viewers in Seoul, The humor that contained friendship between South and North Korean soldiers has disappeared, and the screen is now filled with violence and blood reflecting on deep side of human nature that is entangled in revenge after revenge.
Director Park (Park downward) and the leading actor that joined the production after 5 times in consideration, Song Kang-Ho (Song downward) speak of `Revenge Is Mine`.
- Dominating criticism is that `it's brave`.
"Brave? Won't it just be crudity of making a whole new genre? I only expressed the year 2002's sentiment and code through extreme violence." (Park)
"Even I was scared when I first looked at the scenario. I don't blame the audience." (Song)
- The main characters, Dong-Jin (Song Kang-Ho), Ryu (Shin Ha-Kyun), and Young-Mi (Bae Doo-Na) commit murder, but they are not seen as evil figures. Then, what would their murder mean?
"Perhaps, something like struggling in despair, or sympathizing with the human frailty that drives one into committing murder after so much hesitation and anguish." (Park)
"Was it that complicated? I just thought it was mere `resistance` of common people." (Song)
"Of course, common. But poor people have more complicated stories." (Park)
- Such violent images might make the audience feel uncomfortable. Many people closed their eyes at the scene where Dong-Jin cuts Ryu's Achilles' tendon with a knife.
"I wanted them to stay nervous for the entire 2 hours, and have the images remaining in their eyes even after they walk out of the cinema. I wanted to drive them to the maximum both psychologically and physically. It's like a whole new experience of watching an extreme movie." (Park)
- Even so, you should have a favorite character.
"If Dong-Jin was pictured only as a ruthless person so preoccupied with his daughter's revenge, he wouldn't have chosen electric torture when he killed Young-Mi. For electric torture, only the switch has to be turned on. It's a sort of indirect murder, which will give him something similar to indulgence." (Park)
- Analysts say that a wild and complicated movie has come out after a long time. But isn't the problem how the audience reacts?
"Last year's trend of gangster movies is enough. We should no longer underestimate the audience's standard. If the movie industry lowers its eyes, the audience senses it." (Park)
"But we can't flop also. I've never flopped since `Green Fish` (1997). (laughs)" (Song)
Seung-Heon Lee ddr@donga.com