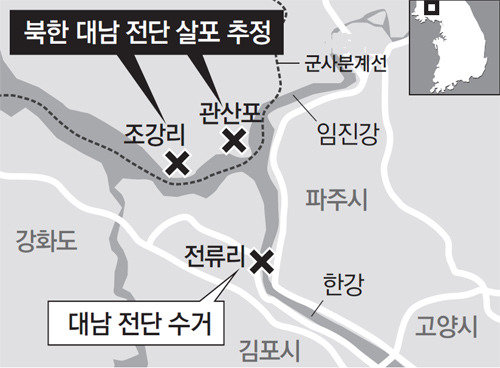 North Korea is found to have sent plastic bags containing propaganda leaflets targeting South Koreans through the Han River. It is the first time the North floated leaflets towards the South through an aquatic route rather than spraying airborne using air balloons.
According to the Joint Chiefs of Staff on Wednesday, the South Korean Marines' reconnaissance team collected dozens of plastic bags containing propaganda leaflets targeting the South at Han River waters near a village in Haseong-myeon, Gimpo City on July 22. While patrolling waters at the mouth of the Han River using rigid-hulled inflatable boats, the reconnaissance team reportedly discovered a number of plastic bags floating on the water, and collected them. Each of the plastic bags in four types, the size of a ramyeon noodle package, was found to be containing some 20 shoddily printed propaganda leaflets targeting South Koreans, and sealed, the Joint Chief of Staff said.
"The leaflet, which is 11 centimeters wide and 24 centimeters long, contained information that promotes and glorifies the North Korean regime, including distorting of the armistice signing day of the Korean War (July 27) as the day for commemorating North Korea's war victory led by the North's founder Kim Il Sung," a JSC source said.
The leaflet targeting South Korea, which was publicized by the military on the day, had three-image cartoons describing the North attacking with the Musudan intermediate range ballistic missile South Korea and the U.S. that have insisted on "hostile policy toward the North."
Some leaflets had sentences suggesting "North Korea's new revolution weapons Hwasong-10 that could completely destroy U.S. strategic assets in the Pacific Ocean." The leaflet is believed to be emphasizing that the Musudan Missile, which the North fired at an area near Wonsan, Gangwon Province on June 22, is aiming at the U.S. military base in Guam, which will provide the U.S. nuclear umbrella to South Korea including the B-52 bombers are deployed.
The South Korean military's analysis suggests that the North is sending propaganda leaflets through waters, as it has become difficult to spray leaflets airborne by using air balloons amid strong winds blowing in from the south in the summer. "This is clear evidence that the North is constantly conducting acts of provocations as part of its Unification Frontier plots in order to cause chaos and divide in South Korean society," a South Korean military source said.
Notably, the South Korean military is paying attention to evolving situations that that the North could use a method of floating harmful substances such as biological weapons or explosives. "Since the latest incident could be signs of the North's new provocations, we have beefed up surveillance and defense readiness in the entire areas at the mouth of the Han River," another military source said. The military also requested civilians to report to military units and police station once they find similar plastic bags in waters at the Han River.
윤상호군사전문기자 ysh1005@donga.com