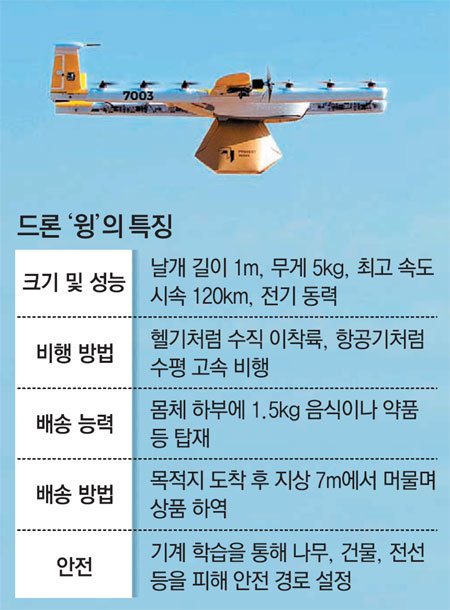 A venture company by Google's Moonshot project that aims to transform the future has received approval for commercial deliveries for the first time in the United States. The Federal Aviation Administration pioneered the way for "drone deliveries" by allowing approval based on existing regulations on charter flight licenses.
Media outlets including Bloomberg News, Wall Street Journal, The Washington Post reported that Google affiliate Wing Aviation received approval from the Federal Aviation Administration allowing it to make commercial deliveries by drone. "Wing's new status was granted under regulations in place to cover traditional charter flights, such as those carrying tourists on unscheduled hops between Hawaiian islands, rather than under rules specified for drones. That allowed Wing to leap a major hurdle," reported The Washington Post.
The U.S. had not allowed long-distance commercial deliveries by drone until recently. Under the regulations on drones, established in 2016, commercial drones cannot be flown out of the operator's sight in the U.S. Long distance drone flights were allowed only for testing purposes. Due to such constraints, Wing obtained regulatory approval from Australia ahead of the U.S.
Wing's electric drones are 1 meter wide, weigh 5 kilograms and can fly up to 120 kilometers per hour to help carry food or beverage, drugs, etc., of up to 1.5 kilograms (3.3 pounds). Wing Aviation had worked with Virginia Tech to test delivery services.
Wing will launch delivery services in Blacksburg and Christiansburg in Virginia. "A healthy meal delivered, hot and fresh, in just a few minutes, can make a pretty transformative impact in quality of life," Wing chief executive James Ryan Burgess said.
Wing is currently permitted to operate in only two rural communities with low population. "Unlike Amazon.com Inc.'s Prime Air, Wing will sell items from local merchants," reported Bloomberg. It is likely to build delivery experience and expand to larger areas. The "drone delivery competition" in the U.S. will pick up steam when Amazon, UPS, Uber and other competitors follow suit.
Yong Park parky@donga.com