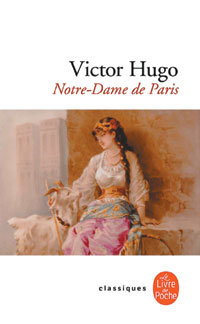 The French grieving over the fire of the Notre Dame Cathedral, which lost its iconic spire and arched roof, have found console reading Victor Hugo's 1831 novel "Notre Dame de Paris."
Victor Hugo's novel has become the best-selling book on Amazon France after part of the 856-year-old cathedral, which had been largely damaged and damaged after the French Revolution, was restored after the publication of the book.
On Tuesday, the 1975 edition of "Notre Dame de Paris" published by Classique priced at 4.6 euros, jumped to the No. 1 best-selling list. There were other five versions with different publishers or translations that were included in the top 10 best seller list.
A hardcover art history book with high-quality photos, history and architecture facts about the cathedral, priced at 85 euros, rose to sixth place. A Notre Dame travel guide published in 2014 ranked No. 13.
In his novel, Hugo expressed deep adoration for Notre Dame, which was initially constructed in the 15th century. The National Geographic wrote on Monday that this is not the first time for the Notre Dame cathedral to suffer such damage, adding that French revolutionaries caused major damage to the building, especially the statuary, the spire and stone statues while melting down the lead that fixated the wooden roofs to make bullets as well as bronze bells to make cannons.
"Parisians have had a direct relationship with their cathedral," said Stephen Murray, a professor emeritus of Gothic architecture and medieval art at Columbia University. "And I think it was largely because of the wave of interest because of the book."
Taek Kyoon Sohn sohn@donga.com