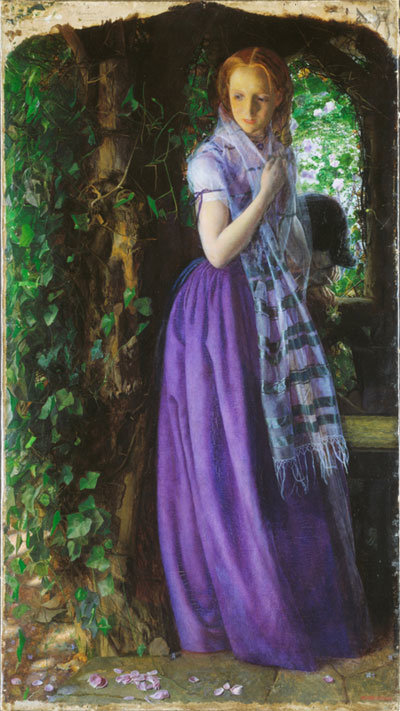 Love between man and woman is one of the most common subjects of art but is also the most relatable subject. Nineteenth-century English painter Arthur Hughes turned a very common scene of love into romantic art. He was brilliant in expressing the nature and human emotions in his works, so much so that his painting was exhibited at the Royal Academy of Arts when he was only 16.
When he painted his best-known work "April Love," Hughes got inspirations from "The Miller's Daughter" by poet Alfred Tennyson The painting depicts fragile love between a young man and a woman at an ivy-clad summerhouse. The woman in a blue dress and a long scarf is turning her head to the side with her right hand on her chest as if she is heartbroken. It looks like she is about to burst into tears and her lips are trembling. The male figure is barely visible but his head is bent over the woman's left hand. There are lilacs outside the window and violet rose petals on the floor. The ivy in the painting signifies everlasting life and rose petals love. The rose petals on the floor suggest that the love has ended and the ivy represents first love and memories of the youth. Hughes used a variety of symbolic elements to express the transience of love in one's youth. The woman in the painting is his first and only love, his wife.
When the painting was first exhibited at the Royal Academy of Arts in 1856, leading art critic John Ruskin raved about the work. Wishing to buy the painting, Ruskin persuaded his rich father to purchase the painting to no avail. Surprisingly, it was 22-year-old Oxford student Edward Burne-Jones, who purchased the painting.
In fact, Jones went to buy the painting at the request of his college friend. The check he paid with had a signature of William Morris. The father of modern design was mesmerized by a painting about love drawn by someone of his age.