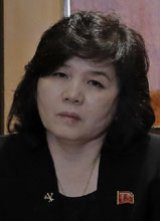 One of the achievements witnessed during the Hanoi summit is that top ranking North Korean diplomate Choi Sun Hee still wields diplomatic influence over the negotiation, according to diplomatic experts. Even after the summit did not reach agreement, Choi unprecedentedly appeared at a press conference as many as three times.
Starting with a late-night announcement 15 minutes past midnight on March 1, she spoked to the press in the afternoon on the same day and next morning. She expressed criticism over Washington while revealing North Korean leader Kim Jong Un's remarks. She delivered that Kim may have lost some interest in the deal with the United States or he seemed to change his mind. She would never be able to make such remarks without Kim's approval. It seems that Choi served as a spokesperson after the nuclear talk failed to reach an agreement.
Meanwhile, some had speculated that Choi lost influence after being replaced by North Korea's special representative for the U.S. Kim Hyok Chol before the Hanoi talk began. However, such speculations proved out to be wrong as Choi has come at the forefront since no deal was made in Hanoi.
Professor Nam Sung-wook of Graduate School of Public Administration at Korea University assessed that North Korea chose the right person to see through the United States and figure out how to deal with it as Choi is regarded as living proof of negotiations with Washington.
Na-Ri Shin journari@donga.com