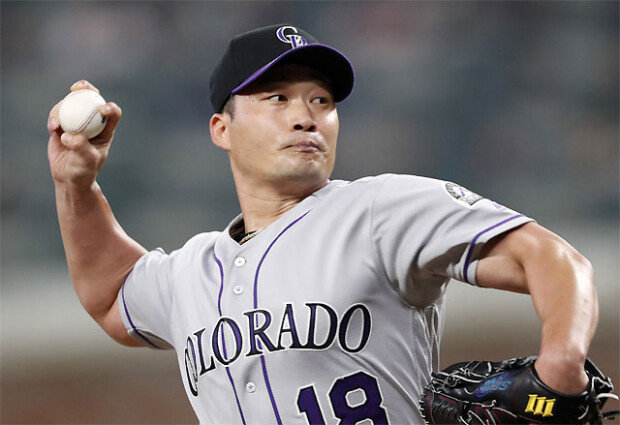 Oh Seung-hwan, the South Korean relief pitcher for the Colorado Rockies, is working hard to polish his change-up at Rockies spring camp. Having finished his first live pitching on Monday (Korean time), Oh made 35 pitches, most of them breaking balls including change-ups against batters.
This is rather uncharacteristic of the 36-year-old as he built his reputation as "Straight Fastball Man" throughout his entire career. Since his debut in the Major League Baseball in 2016, Oh has maintained a fine record of 13 wins, 12 defeats, 42 saves, 42 holds, with an ERA of 2.78, with a simple combination of fastballs and sliders. According to FanGraphs Baseball, Oh threw 51.5% of fastballs and 31.1% of sliders last year. His change-up, however, only took up 7.8% of the total, meaning it came up only once for every 15 balls he threw.
Experts say that Oh's effort is a strategic move for his long-term presence in the Big League. Last year, the average speed of his fastballs stood at 91.6 mph. Oh's ball speed has fallen by 1.3 miles compared to the previous year. While the seasoned relief pitcher managed to keep his ERA at 2.63 with three saves and 21 holds last year, time appears ripe for him to change his pitching style.
The change-up that Oh Seung-hwan is honing is closer to a conventional change-up, not the usual splitter change-ups that he has shown on the mound. The breaking ball that the right-armed pitcher is to introduce for the new season exhibits a tendency of dropping towards the right side, which will be on far outside for left-handed batters and slightly brushing back for right-handed ones. "They are not perfect yet, but they go as I intend. This will have an effect of expanding a range of choices for me," Oh said.
Fans are paying attention to the veteran pitcher to see whether his change-up will allow his performance to stay impactful in the Major League Baseball.
lightee@donga.com