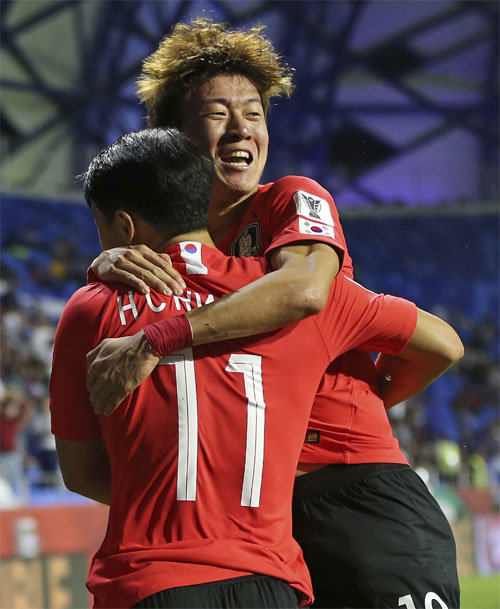 In Monday's group match of the Asian Football Confederation (AFC) Asian Cup between South Korea and the Philippines, the striker of the Philippines was Stephan Schrock (No. 17). The German-Filipino was born in Germany and showed stellar performance in Germany's U-20 team. He has been playing for the Philippines since 2011.
South Korea has played against the Philippines for seven times and not lost once. When the two last played against each other in March 1980, South Korea beat the Philippines 8-0. The Philippines have never been advanced to the World Cup, and have qualified for the AFC Asian Cup for the first time this year. One of the reasons behind South Korea's struggle in Monday's match against the Philippines is the country's "dual nationality" players such as Schrock.
Mike Ott, who chilled Kim Seung-gyu's heart with threatening shots, is also a German-Filipino. The goalkeeper Michael Falkesgaard, who made brilliant saves, was born in Denmark and defender Alvaro Silva was born in Spain. All players of the Philippine national team except for two hold dual nationality. The Philippine Football Federation has recruited players, who perform well in football powerhouses and hold dual nationality, to make the team stronger since 2005.
This is why some say Philippine national team players don't have the right to represent the country. The reason why the Philippines, which first formed a national football team in Asia in 1913, do not have good players born and raised in the country is because of the poor environment. It rains almost eight months of the year in the Philippines and the country has poor public safety. While indoor sports including basketball and boxing are popular in the Philippines, outdoor sports like football and baseball are not.
The Philippines will seek its first victory in the AFC Asian Cup on Friday at 10:30 p.m. (Korea time) against China.
Won-Joo Lee takeoff@donga.com