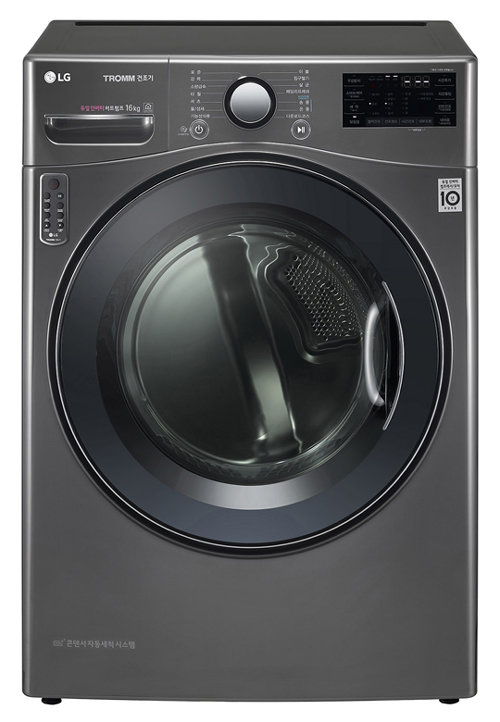 LG Electronics has launched a Tromm dryer with a 16-kilogram capacity to diversify its product line-up in an effort to obtain a larger foothold in the domestic dryer market, which has seen rapid growth due to fine dust from China and rising consumer demand. Since first launching the 9-kg Tromm dryer applying its Duel Inverter Heat Pump in December last year, the company has continuously expanded dryer line up by showcasing 14-kg and 16-kg products in May and November, respectively.
LG's 16-kg Duel Inverter Heat Pump Dryer went on presale from November 12. As the official launch of the product took place on Thursday, pre-sale deliveries will be made on a first-come, first serve basis. The retail prices of the new product are 2.09-2.19 million won.
The Duel Inverter Heat Pump, which is the key technology for Tromm dryers, has increased its flowrate of refrigerants by more than 10 percent compared to its 14-kg capacity version. The Heat Pump uses the energy created when the refrigerants are circulated, which is key for drying performance. In other words, the larger the flowrate, the faster the drying is done without damage to fabric. Previous versions carried only one refrigerant compressing cylinder, but the double cylinder applied versions that launched in December last year showed dramatically enhanced drying performance. The new product also features Inverter Dream Motors and Invertor Fan Motor, which provides separate air circulation. The speed and strength of air movement can be adjusted depending on laundry requirements.
"We predict growing demands for dryers across a diverse range of customers, ranging from single households or newlyweds, who would opt for smaller products, as well as customers who prefer larger versions," said an official at LG Electronics.
Jae-Hee Kim jetti@donga.com