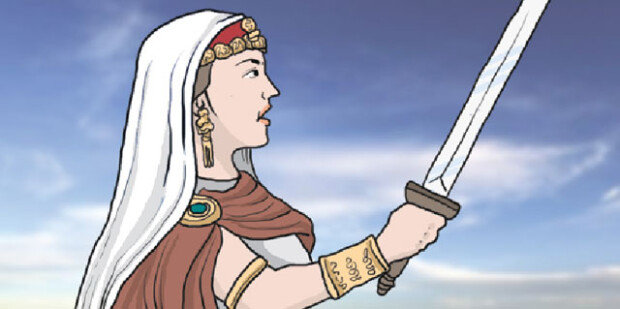 "Her large black eyes sparkled with uncommon fire, tempered by the most attractive sweetness. Her voice was strong and harmonious…she equaled in beauty her ancestor Cleopatra, and far surpassed that princess in chastity and valor," wrote English historian Edward Gibbon, describing Zenobia to celebrate queen of Palmyra in his book "The History of the Decline and Fall of the Roman Empire." Palmyra was a great city built in the middle of a desert in Syria. It is one of the world heritages Syria is proud of. Although the city had been ruined, only leaving the remains of pillars and stone constructions, it never stops to amaze travelers.
The secret behind building a city like this in the middle of the desert was the wealth brought by the city's geopolitical location. Syria was once a crossroads of trade, where goods from India, Europe and North Africa were sold and bought, since the ancient Orient. Palmyra was one of the wealthiest cities in the Roman Empire, which allowed it to enjoy prosperity as a Roman province and to dream of break away from the Roman Empire. Zenobia's desire for independence was fierce. She extended her territory to Egypt and repelled attacks from Rome for several times. Roman Emperor Aurelian had to bring back his strongest army, which was stationed in Germania, to Syria. The Roman Empire fought a hard battle against Palmyra and the Emperor got himself wounded in the war. The Roman Empire barely won the battle and Zenobia became the Emperor's prisoner.
Zenobia's glory and tragedy represent the pain Syria has suffered for the past 4,000 years. The empires formed in Europe and the Near East including Assyria, Persia, Rome, the Crusader states, and Ottoman, all invaded or conquered Syria. Although the era of camel trade ended, a war never stops in Syria. Even now, Syria is a place where the United States, Russia, Turkey, and oil empires in the Middle East come into conflict with one another. Two years ago, this reporter saw Syrian refugees, a father and his daughter, sitting on the street in Istanbul. The girl was as beautiful as Zenobia and was holding a loaf of bread in her hand. She was surrounded by street cats, aiming for that bread. Syria would not have to undergo such pain if it was a worthless land. A blessing is a blessing only to a country capable of keeping it.