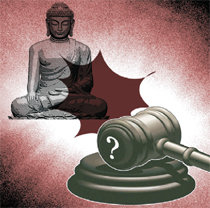 When Koreans face a dead-end situation, they use a term "Ipan-Sapan," which is roughly translated as "do or die." The term's origins are in Buddhism. Ipan refers to monks who explore the theoretical aspect of Buddhism such as meditation and discipline while Sapan are monks who are in charge of administrative duties at temples. There is no established theory that explains how the term came to be used as it is today.
The Central Council of the Jogye Order voted Thursday to oust its president Venerable Seoljeong from office, who has faced a string of allegations including secretly fathering a daughter against the sect's celibacy rule. This is the first time in history that a vote of no-confidence was passed at the council. On Thursday, members were seen shouting and jeering with some trying to proceed and others countering with a filibuster. They turned it into a closed-door meeting in 40 minutes, probably out of embarrassment.
What is behind such chaos is a wicked encounter between Ipan and Sapan monks in the first place. Venerable Jaseung, former president of the Jogye Order, has been hailed as the greatest Sapan monk since the order was reformed in 1994. Serving consecutive terms for the first time as the 33rd and 34th president, Jaseung combined four factions to form a large sect. Some even said that he must be scary if you are not on his side. Meanwhile, Venerable Seoljeong was one of the representative Ipan monks, serving as a head monk at Sudeoksa temple. Before entering the world of Sapan, Seoljeong was well respected and considered as one of the promising candidates for the order's supreme patriarch.
The executive director of the Jogye Order's administrative headquarters is often called the "president of the Buddhism" due to authorities given to the position including rights to appoint and dismiss abbots at some 3,000 temples across the country, supervise the order and temples' properties, approve the disposal of properties, and approve or adjust the budget of temples. This is why the order's presidential election held every four years is called a competition for power over the order. In last year's election, Venerable Jaseung suggested that Seoljeong join a coalition, threatened by another candidate Venerable Subul. Observers say that Jaseung and Seoljeong must have concluded that they could get through the allegations about Seoljeong such as forgery of his academic background, embezzlement of organization funds and harboring a daughter born out of wedlock. It seems the country's biggest Buddhist sect has a long way to go to practice the wisdom of lotus that stay clean even in dirty places.
Gab-Sik Kim dunanworld@donga.com