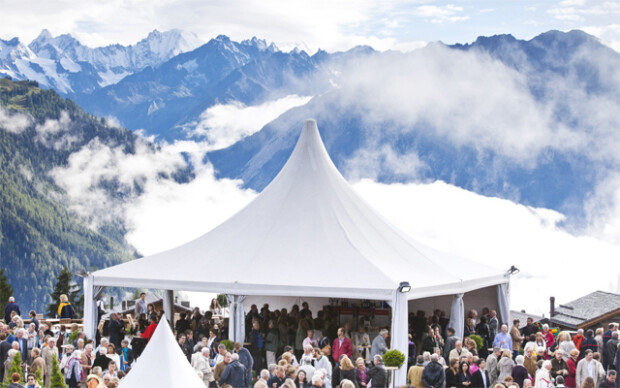 On July 30, in an Alpine village of Switzerland's Valais Canton, the entire secretariat of the annual Verbier Festival was suddenly put on alert. Romanist pianist Radu Lupu, who was scheduled to appear on stage in the evening that day, got sick and had to cancel the performance. The organizing group hurriedly contacted Andras Schiff and the Hungarian-born British classical pianist hit the stage after having a rehearsal only once with the Verbier Festival Orchestra (VFO) and conductor Gabor Takacs-Nagy.
The little Alpine village, though with the altitude of 1,600 meters, has been affected by global warming and is witnessing its daytime highs rise over 30 degrees Celsius. Still, the festival's main, AC-free concert hall "Salle des Combins" with 1,700 seats was filled to capacity regardless of the change in the program.
The choice of Andras for the stage he had only a few hours to prepare was Beethoven's Piano Concerto No. 4. Sir Andras Schiff, who was knighted by Queen Elizabeth, appeared in front of the audience wearing a smile that resembles that of a seeker, as he always does. As he began an introduction of the first movement, playing triplets that are similar to those in Beethoven's Symphony No. 5 and called the "motif of Fate," all eyes fell on his fingers.
Andras chose a Beethoven in meditation instead of a powerful Beethoven, and his music soared up into the sky just like an albatross as if it no longer existed in the world. His lifting up of a left hand to give a sign to the orchestra in a latter part of the cadenza showed that the maestro, no matter how he was an excellent musician, could not find himself all relaxed on stage. As soon as the third movement came to an end in a storm-like rush, the audience gave him a standing ovation. Andras played Schubert's Hungarian Melody as an encore with his eyes gently closed, and the audience was enveloped in peaceful silence.
Swedish performance director Martin Engstroem started to hold a music festival at a ski resort in the summer of 1994, and the idea led to great success. The Verbier Festival, celebrating its 25th anniversary this year, has attracted the world's top-class musicians. During the festival, the small village with the population of some 3,000 residents is filled with tourists and performers from all around the world. One can even easily encounter international soloists and members of the orchestra at the "Mont Fort," where a wrap-up party is held. The festival's system that holds both a concert and an academy has been also benchmarked by the PyeongChang Music Festival.
"Alps on alps arise," said English neoclassical poet Alexander Pope in "An Essay on Criticism." In the summer of 2018, the Alps were rising even higher with music.
Seung-Hoon Cheon raphy@donga.com