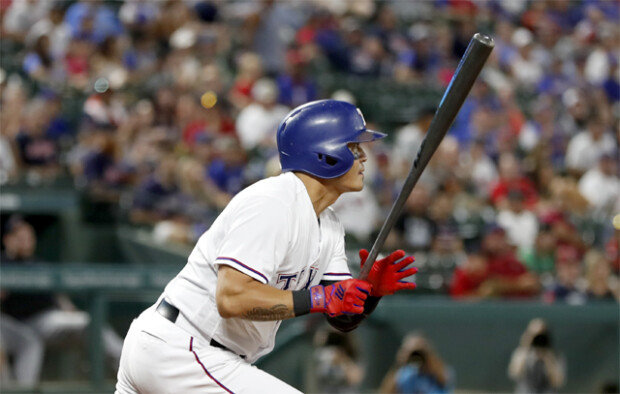 Choo Shin-soo's streak of reaching base safely ended at 52 games on Saturday night.
Batting leadoff, Choo extended his streak with a single in the bottom of the first inning against the Cleveland Indians at Globe Life Park Saturday. Choo's on-base streak halted in his 53rd game after extending the streak in 52 consecutive games and recording impressive 2-for-4 in the previous game on Friday.
Choo looked for an opportunity in the third base of the sixth inning after hitting a ground ball in the first base and striking out in the second base. But the umpire called out strike to a ball that got out of the strike zone, while Choo expressed his regret to the umpire. He led three balls and two strikes, but was struck out in the end.
Choo's on-base streak at 52 games itself is impressive because it is the first tie record since Kevin Millar's record in 2007 and also the first streak that hit 50 games. He outstreaked Ichiro Suzuki who used to have the highest record as an Asian player (43 games in 2009) and Julio Franco's record in one Texas season (46 games in 1993). Major League Baseball games have recently shown more dramatic moves such as home runs and strikeouts, which makes Choo's record even more rare as setting such a record requires patience.
Bae-Jung Kim wanted@donga.com